Italian Chicken Braise (Cacciatore)
Time:

1 hour and 30 minutes

Serves:

4

Level:

easy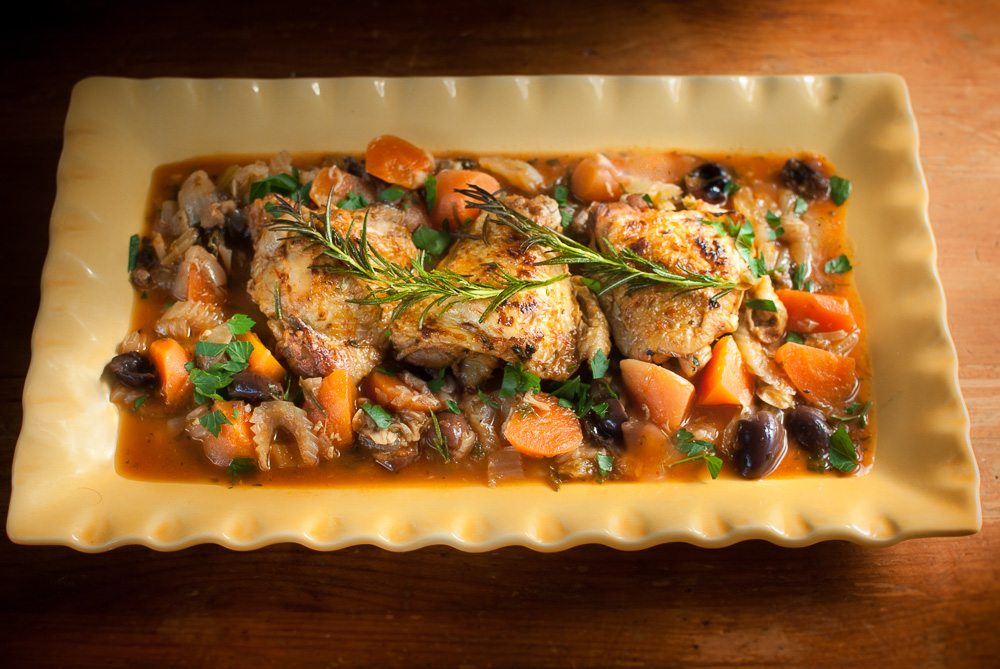 What you need
8 chicken thighs with skin and bone
1 large onion
4 cloves of garlic
2 medium carrots
2 sticks celery
125ml white wine
300ml tomato passata
500ml chicken stock
1 tbs dried oregano
4 sprigs rosemary
100g pitted black olives
Optional ingredient ideas:
Red peppers and chorizo
Green peppers and button mushrooms
How Dad Cooked It
To save time I use two pans.
Brown the chicken. Do this in a separate large frying pan and fry carefully without damaging the skin. When browned on both sides take out of the pan and set aside. Keep the pan on the hob with the heat off.
Cook vegetables. Chop the onion into a small dice, slice the celery into small pieces, cut the carrots into irregular rhomboid shapes and finely chop the garlic. Add the onion and the celery to a large casserole or braising pan with lid. Fry in a good glug of olive oil for 5 minutes, then add the garlic and continue to fry for 5 minutes without burning the garlic. Finally add the carrots and cook gently for a further 5 minutes. Add the bay leaves, oregano, two rosemary sprigs and passata. Let the passata cook down for a few minutes and add the stock. Bring to a simmer and cook for 10 minutes.
Deglaze the chicken pan. Add the wine to the pan and deglaze on high heat. Allow the wine to bubble and reduce by half. Add the casserole pan.
Cook the braise. Add the chicken to the casserole pan skin-side up. Try to keep to a single layer of chicken. Cook on a very gentle simmer with the lid ajar for 30-40 minutes or until the chicken is cooked through. 10 minutes before the end of cooking add the olives. If using alternative ingredients, saute these separately and add with the olives.
Strain the liquid from the casserole pan. Put the lid on the chicken and keep warm. Put the strained liquid in a saucepan and bring to a boil. Put the pan to one side of the burner. This boils the liquid on one side of the pan and creates a film of fat and impurities on the other. Skim the fat while reducing the liquid for about 10 minutes.
Finish the braise and serve. Heat a layer of vegetable oil in a small frying pan and when hot add two rosemary sprigs. Fry on both sides until just crisp and drain on kitchen towels. Arrange the vegetables on a serving platter, add the chicken and pour over the sauce and garnish with the fried rosemary. Serve with pasta, crusty bread and a salad in summer or potatoes and green vegetables in winter.