Asparagus, Jersey Royal and Parmesan Fritatta
Time:

40mins

Serves:

4

Level:

medium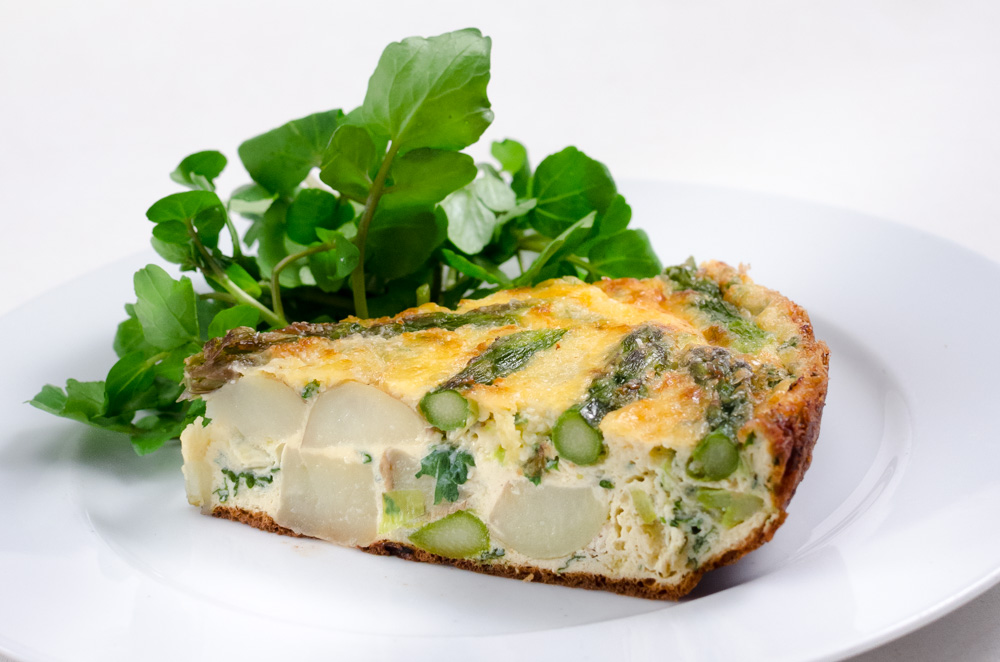 What you need
450g asparagus
250g Jersey Royal potatoes
6 finely chopped spring onions
6 large St. Ewe free range eggs
90ml Longley Farm Jersey single cream
60g finely grated Parmesan
3 tbs finely chopped fresh parsley
1 tbs olive oil
35g butter
Watercress salad
Lemon and olive oil dressing
How Dad Cooked It
This is a recipe WDC developed for Garsons Farm in Esher. We cooked 10 fritattas and gave away hundreds of samples to visitors at their Spring Food Fair. Judging by the reactions, the recipe works!
The British asparagus season runs from April to late June. Garsons is well known for its asparagus. The Farm Shop stocks British asparagus during the season, often freshly cut from its own fields. Asparagus is packed full of vitamins, minerals and essential fibre so it's not only a delicious vegetable but a healthy one too.
Clean the potatoes and cut into 2cm chunks. Place in a pan of salted water and bring to a simmer. Cook for 20 minutes or until tender but firm. Drain.
Trim and peel any tough parts of the asparagus spears. Cut into short lengths, keeping the tips separate. Cook the spears in boiling salted water for 5 minutes until just tender. Drain and dry on kitchen towel. Boil the tips for about 2 – 3 minutes and drain.
Heat a medium frying pan and add the oil and 10g of butter. Sauté the potatoes for 2 minutes on medium heat, then add the asparagus spears and the onion and continue to cook for 5 minutes. Put the mixture onto a plate and wipe the pan clean.
Crack the eggs into a large bowl and add the cream, parsley, and half of the Parmesan. Season with salt and pepper. Whisk the ingredients together.
Combine the potato mixture and egg mixture in the bowl and stir. Place the pan over a medium heat and add the remaining butter. When melted add the mixture and stir for a minute. Turn the heat to Sprinkle the reserved asparagus tips and remaining Parmesan over the eggs. Cook for 12-15 minutes – the top should still be loose. To finish, place under a grill until lightly browned.
Serve the frittata warm with a watercress salad dressed with lemon and olive.