A Night At The KERB
Posted by

Mr WDC
Aug 14, 2016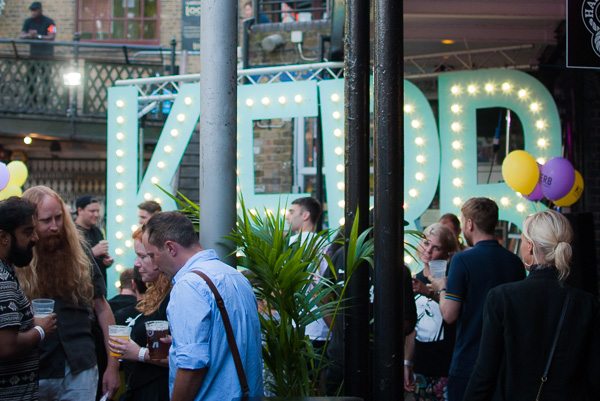 WDC trip to KERB at Camden Market Preview (11th August, 2016)
What a great night out! WDC was invited by Time Out to attend a preview for the KERB in Camden Market – they promised a night of free food from 35 affiliated street traders. It's always exciting to wander around the Lock's multilayered warren of shops, stalls and courtyards, so we were looking forward to the event.
The idea behind KERB is interesting. The company affiliates independent street entrepreneurs and markets them as a collective. The founder has roots in street markets and states that the company has social goals at the heart of its scheme, giving opportunities for traders to grow their businesses. Providing KERB do not try to corner the street food market, they could become a force for good, improving the diversity and standard of street food throughout London.
KERB is situated in the West Yard of Camden Lock, one of the most attractive and convivial areas of the whole of Camden Market.
There was a fantastic array of different kinds of street food.
Each trader offered samples of their food.
The only trouble was deciding which?
Most people didn't wear their food on their head…
…although, most people did enjoy free drinks…
WDC does have some experience of selling food at a market stall – we sold chips with salsas. Naturally, we needed to make a comparison.
Club Mexicana's chips were not bad – and all vegan.
I've been interested in Louisian cooking and barbecuing, so it was good to find a native Louisian and to talk about her food – Louisiana Chilli Shack.
And her food is good. The mild green salsa and corn griddle cakes taste very authentic.
Pete is a fan of Vietnamese Street food – such is the nature of these things, all three of us fell into place and had the same. Thus proving that it is impossible to legislate how people will eat given a choice of 35 free types of food.
But the chicken noodle pots from Hanoi Kitchen were good. I've got an idea to make this myself now. Pete wants to know what makes it taste so Vietnamese…
…mostly it's on show here – the big baskets of mint and coriander may also give a clue…
Another stall with persistent queues was the Crabbieshack. Dougie is from Kent, and so is his food!
His menu was inspired and generous. Soft-shell crab burgers, scallop on salsa, and crab fries.
Leo can vouch for Kothu Kothu from previous visits.
They certainly understand the theatre of food – Kothu means 'chop' and each dish is made on a hot grill accompanied by much chopping and banging of steel blades.
Pete and I had a taster of katsu chicken from Yu Kyu. It was perfect. The Japanese invention is ideal for selling on the street.
Pete sampled BBQ Dreamz – also recommended.
My 'Nighthawks' by Edward Hopper inspired image of the Falafel stall. Leo finds falafel wraps irresistible. He gave Nazari and their organic falafel wraps a thumbs up.
Leo also had a Korean a Beef Burrito from Kimchinary. Unfortunately, for wrap sellers, a wrap is very difficult to photograph. So you will just have to take Leo's word for it that they were very good.
Mexican food is well represented. Happily, Luardos has pushed the boundaries and delved deeper into Mexican Street food.
I didn't think it was possible, but The Mac Factory have managed to gourmetise the humble mac 'n cheese.
By design or otherwise, much of the enjoyment of wandering around the stalls is generated by the signage, branding and graphics. The following are a few more stalls that looked very tempting…
It's amazing how having a camera can help you engage with people.
The evening drew to an end and most stalls had sold out early…
… leaving time to sit with a drink and enjoy the surroundings.
Thanks for the invite Time Out. We'll come again soon.
All the food stalls we encountered at KERB Camden.
Follow all these guys below to find out what they're up to and what's on the menu (ones in bold we got some grub from):
Ink Squid Bar https://twitter.com/inksquidbar
Ice Cream Sandwiches https://twitter.com/blutopicecream
Oh My Dog! https://twitter.com/OMDhotdogs
Oli Baba's https://twitter.com/oli_babas
Stake Haus https://twitter.com/stakehaus
Hanoi Kitchen https://twitter.com/hanoikitchen
Burger and Beyond https://twitter.com/burgerandbeyond
Nazari Falafel https://twitter.com/nazarifood
Club Mexicana https://twitter.com/clubmexicana
Louisiana Chilli Shack https://twitter.com/LouisianaChilli
Crabbie Shack https://twitter.com/crabbieshack
Kothu Kothu https://twitter.com/Kothu_Kothu
YU KYU https://twitter.com/_YuKyu_
BBQ Dreamz https://twitter.com/BbqDreamz
Kimchinary https://twitter.com/kimchinary
Luardos https://twitter.com/Luardos
The Mac Factory https://twitter.com/themacfac
Makatcha https://twitter.com/Makatcha_Eats
Kolkati https://twitter.com/Kolkati
Bian Dang https://twitter.com/biandangUk
Killa Dilla https://twitter.com/KIllaDillaLDN
Ghetto Grillz https://twitter.com/Ghetto_Grillz
Or visit KERB's site for to check out the full list of traders.
A Wagashi Birthday Treat
A dear friend made a trip to the Minamoto Kitchoan in Piccadilly London and bought a bag-full of wygashi delights for my birthday.
Sweet Corn Memories
Growing up in Southern California in the 60s, our family was fussy about its corn…