Seasonal Summer Salad with Grilled Halloumi
Time:

30 minutes

Serves:

4

Level:

easy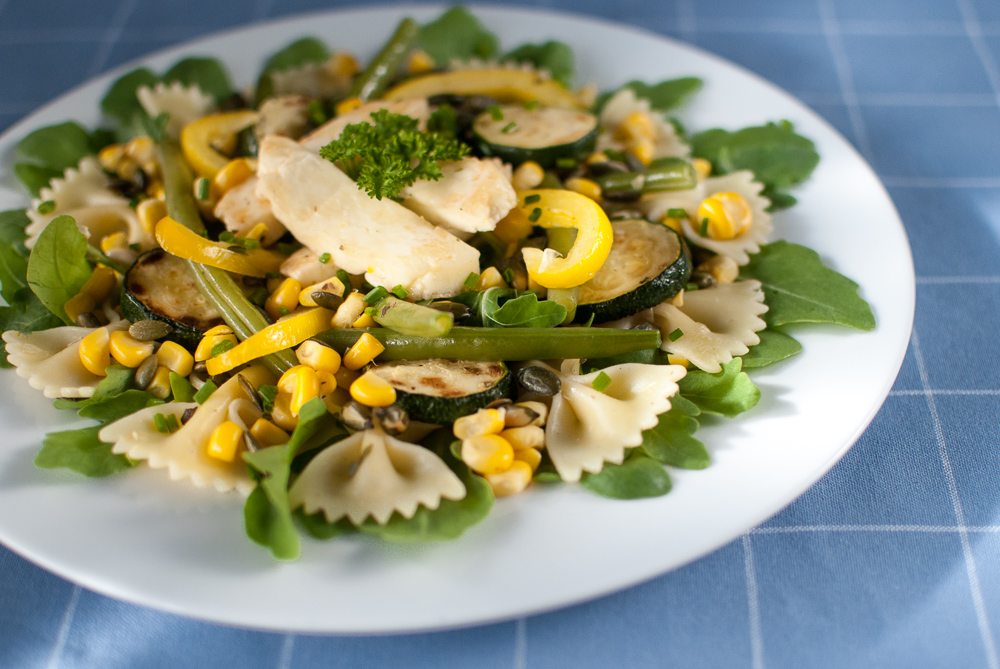 What you need
2 ears of sweetcorn
300g green beans
2 courgettes
2 cloves of garlic peeled and cut in half (optional)
1 yellow pepper
300g farfalle pasta
500g halloumi
140g wild rocket
80g pumpkin seeds
Several pinches dried oregano
20g fresh chives
2 lemons
Olive oil
How Dad Cooked It
Here's a great summer salad to enjoy al fresco or indoors. Three of the ingredients, beans, courgettes and sweetcorn are in season right now. If you're lucky you might get a donation from your local allotment, but if not they're all available from the shops and should be sourced from growers nearer to home. There are two tricks to this salad: first, it's dressed as it is cooked; second, it's served warm, creating a perfect backdrop for the grilled halloumi. NB: if you prefer the salad cold, substitute cold cooked chicken breast for the halloumi.
1. Cook the pasta. Add the pasta to salted boiling water and cook until al dente. Drain, reserving some of the liquid, then return the pasta to the pan, add a squeeze of lemon, a little olive oil and a splash of cooking liquid. Stir and set aside.
2. Boil the corn and beans. Cut the corn kernels from the cobs and boil until tender and drain. Cook the beans in salted boiling water until tender. Drain, return the beans to the pan and add a squeeze of lemon and a little olive oil. Add the corn to the beans, stir and set aside.
3. Sauté the courgettes. Slice the courgettes into 1 cm thick 'coins'. Fry in a single layer in a large non-stick pan in a little olive oil with the garlic. Season with salt, pepper and a good pinch of oregano. Turn over when lightly browned and cook the other side. Lift out the courgettes (leaving the garlic in the pan) and set aside on a plate. Add a squeeze of lemon.
4. Fry the halloumi. Cut the cheese lengthwise into 15mm slices, then cut each slice to make two 'chip' shapes. Using the courgette pan, add a little more olive oil and fry the cheese until browned, turn over to cook the other side. Sprinkle over more oregano and add a squeeze of lemon. Discard the garlic and add the pasta to the pan and stir, keeping warm.
5. Toast the pumpkin seeds. Using a dry non-stick pan on medium high heat, toast the seeds until they puff up and start to pop.
6. Assemble and serve the salad. Rinse and dry the rocket, slice the pepper and chop the chives. Using a large salad bowl, combine the beans and corn, the pasta and halloumi with the seeds, rocket, peppers and chives. Toss together to mix well, season and serve.