Quick and Easy 30 Minute Roast Lamb with Garlic Mash
Time:

30 Minutes plus oven pre-heating

Serves:

4

Level:

easy
This dish is superb. A French style Sunday dinner. For me the recipe is all about tarragon and flageolet bean and how well they combine with roast lamb. But in fact, the real marvel of the recipe is that it can be done in 30 minutes. I've done this successfully with a half leg joint and neck fillets.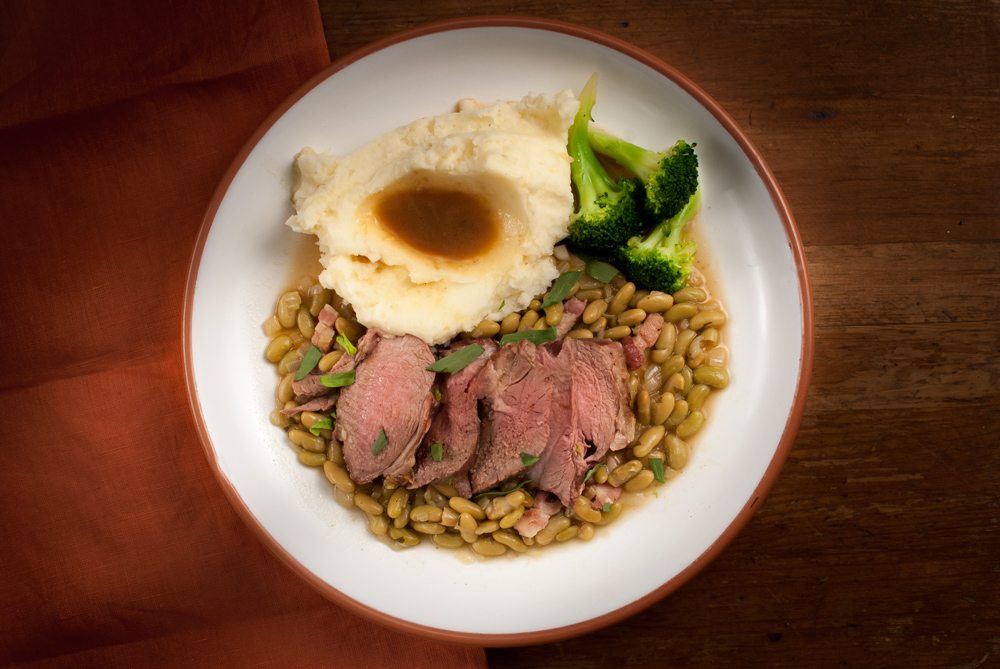 What you need
1 half leg joint of lamb with bone – about 850 – 1kg OR 4 lamb neck fillets – about 850g – 1 kg
200g unsmoked bacon lardons
1 large onion or equivalent shallots
2 sticks of celery
6 cloves of garlic unpeeled
1 or 2 tins of flagelolet beans (drained 530g)
1 kg King Edward potatoes
500 ml chicken stock
2 tbs white wine vinegar
1 tsp dried tarragon
Store cupboard: salt, pepper, olive oil, butter, milk
How Dad Cooked It
Take the roast out of the fridge for half an hour before using and preheat the oven to 240C, Gas 9 for at least 15 minutes before starting. Sorry if this feel like a cheat – but it's not really cooking, is it? NB: like all quicker recipes there is a lot of overlapping and multi-tasking involved. Read the whole recipe to see where the overlaps are.

Recipe: Put 6 unpeeled fat cloves of garlic into a parcel of tinfoil with a teaspoon of water, seal tightly and put on a roasting dish. Dry the lamb with kitchen towel. Butterfly the lamb leg joint if using (see notes below). Season with salt and pepper and drizzle over olive oil. Lay the butterflied leg joint or lamb necks out flat on the roasting tray (fat side up) and place in the oven. Cook for 15 minutes, then turn the heat down to 180C, Gas 4 and cook for 10 minutes. Then remove the garlic and turn the heat off.
Meanwhile, fill the kettle and boil. Peel the potatoes, cut into 2mm slices 2 and put into a pan. Pour boiling water into the pan and add a teaspoon of salt, bring back to a slow boil and cook for 15 minutes. Drain and place on top of a dry pan for 5 minutes.
Meanwhile, open the tins of beans and drain (don't rinse), chop the shallots and the celery and put into a heavy-based pan with the lardons and 2 tablespoons of light olive oil. Fry on medium-high heat for 10 minutes. Add 2 tablespoons of white wine vinegar and 250 ml of the chicken stock to the pan and bring to a simmer. Add the tarragon and a good grinding of pepper, cook for 5 minutes. Add the beans and cook for 5 minutes.
Put 25g of butter and 100ml of milk in a pan and heat. Remove skins from the roasted garlic and mash with a fork. Add the potatoes and garlic (to taste) to the pan and mash. Season with salt and pepper. Take the meat out of the oven. Spoon off excess fat from the tin and deglaze with 100ml of stock and put into a pan with the remaining stock. Heat to reduce – add 20g of butter and whisk, taste and season. Cut the lamb into slices (for lamb neck fillets cut at a slight angle) and serve over the flageolet beans, with mash and the reduced gravy. A few green vegetables would be welcome.
***
Tips: This recipe demonstrates the wonder of tarragon and flageolet beans. They seem to be made for each other and make a great accompaniment to duck, lamb and pork. Tarragon is a herb that works well in dried form. By all means buy fresh – but it's handy to have a jar of the dried stuff in the storecupboard (add to omelettes, or fried mushrooms…). If you use fresh tarragon chop about 1 tablespoon of chopped fresh leaves and add with the stock, taste as you go and add more if needed. Use tarragon with a light hand – a little goes a long way…

Optional ingredients: The only extra ingredient that would be useful is bay leaves – add a couple at the end of onion frying. Using stock is important for this recipe. Either use homemade, ready-made from a store, a tin of chicken consomme, or a stock cube to make-up a stock (follow the instructions and adjust extra salt to taste – most cubes are very salty).

Notes: The trick to this recipe is getting a very hot oven to begin with, and then roasting more gently at a lower heat. We often sear lamb necks quickly on a high heat and slice very thinly at an angle against the grain, but most recipes call for braising lamb neck fillets for for a longer period of time on low heat. This style of cooking the meat here borrow a little from each of these methods. The short cooking time is honestly long enough to cook well-done lamb – so if you feel your pieces are a little thin adjust the cooking time.

Potatoes that are larger are easier to peel in a hurry. The method of cooking potatoes goes against the common wisdom of starting potatoes in cold water (which will cook the potatoes more evenly). However, since we are mashing and cooking quickly, this method works fine. Just make sure water is not boiling rapidly – gentle is better (and still 100C) – also make sure the potatoes are cut no thicker than the width of a fat finger.

Butterflying a half leg lamb joint: Lay the joint on its side on a chopping board – the bone running away from you. Imagine the meat is a collar wrapped around the bone; you are aiming to 'unbutton' the collar, open it out and lay it down flat on the board to your left and right. With your knife pointing in the same direction as the bone, cut down to the bone, do not remove the bone, but cut most of the meat away from it and cut into other parts of the meat to create an even thickness to the collar. It's good to keep the bone attached to some of the meat, it adds to flavour and keeps the meat near to it moist and tender.

Finessing the recipe: To be honest, this dish is fine as it is.