Quick and Easy 30 Minute Mild Thai Curry
Time:

30 Minutes

Serves:

4

Level:

easy
I have done a few Thai curry's but they can take a couple hours to do well and the ingredients can be endless. Here is a healthy fish curry with a Thai twist that's quick and easy. The trick is to use an everyday jar of curry powder!
This version is also MILD – deliberately so, this way children and chilli intolerant people can enjoy the Thai tastes. You can always add chilli on the side.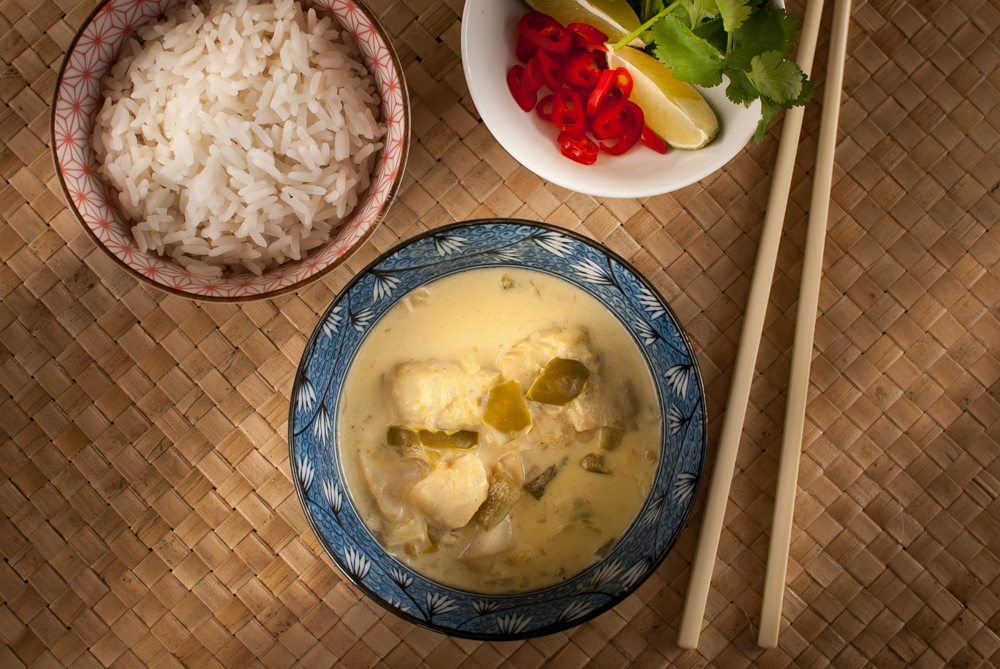 What you need
800g pollack, haddock or cod
1 green pepper
4 shallots – about 240g – or 1 onion
4 cloves of garlic
4 lemon grass stalks
A chunk of ginger as long as your thumb about 70g
1 tbs nam plah
2 tsp Bart mild curry powder – or any other that includes turmeric
1 tin of coconut milk (400g)
4 limes
From store cupboard
1 tbs sugar
Optional garnishes – as in the photo
Coriander and sliced chilli
How Dad Cooked It
Recipe: This is best served with rice. Use your preferred rice and follow the instruction on the packet. Chop the onion and the garlic and in a wok or saucepan fry on a medium-high heat in a little vegetable oil. Cut the lemon grass stalks in half and bash with a rolling pin, add to the pan. Peel the ginger and chop finely, chop the green pepper into 1 cm pieces and add to the pan. Continue to fry stirring continuously. When the onions have been cooking for about 7 minutes, add the curry powder, stir for a minute then add 250 ml water, the sugar and the nam plah fish sauce, bring to boil and simmer for 5 minutes, add the coconut milk and bring to a boil and simmer very gently for 5 minutes. Meanwhile, skin and chop the fish into large chunks and add to the curry – bring gently to simmer and cook for 5 minutes and then turn off the heat – remove the lemon grass stalks. Taste and adjust the seasoning with more lime, nam plah or salt, sugar, and pepper. Serve with rice, green vegetables or a salad and lime wedges.
***
Tips: I find that commercial Thai curry pastes can be very hot and that you only need a teaspoon leaving a large tub to gradually deteriorate in the fridge. So the cheat here is to simply use a commercially available mild curry powder from the store (check that there is turmeric in the mix to give the curry colour). This will also hang around in the cupboard but it is cheaper and more versatile than a wet Thai curry paste. Otherwise the Thai flavours in this dish come from the lemon grass, coconut milk and lime…

Optional ingredients: Shrimp paste gives a distinctive musty and exotic taste to Thai curries. Add chilli to the curry while frying onions if you like the heat (or of course buy a tub of Thai curry paste instead of powder). Or if you are really addicted to the hot stuff – put a bottle of sriracha sauce on the table. Use palm sugar instead of normal sugar.

Notes: Pollack is a fantastic fish. It is full of flavour – but more importantly it is very firm and with gentle frying and cooking in a sauce it won't break up too much. Of course, pollack is also very sustainable – and inexpensive!
Finessing the dish: Garnish with coriander.