Quick and Easy 30 Minute Chunky Shepherd's Pie
Time:

30

Serves:

4

Level:

easy
A shepherds pie is great family fare – but it can take over two hours – this is a de-constructed version that can be made in half an hour (but you will need to keep your skates on!) Try this method of cooking potatoes for other dishes – it's brilliant.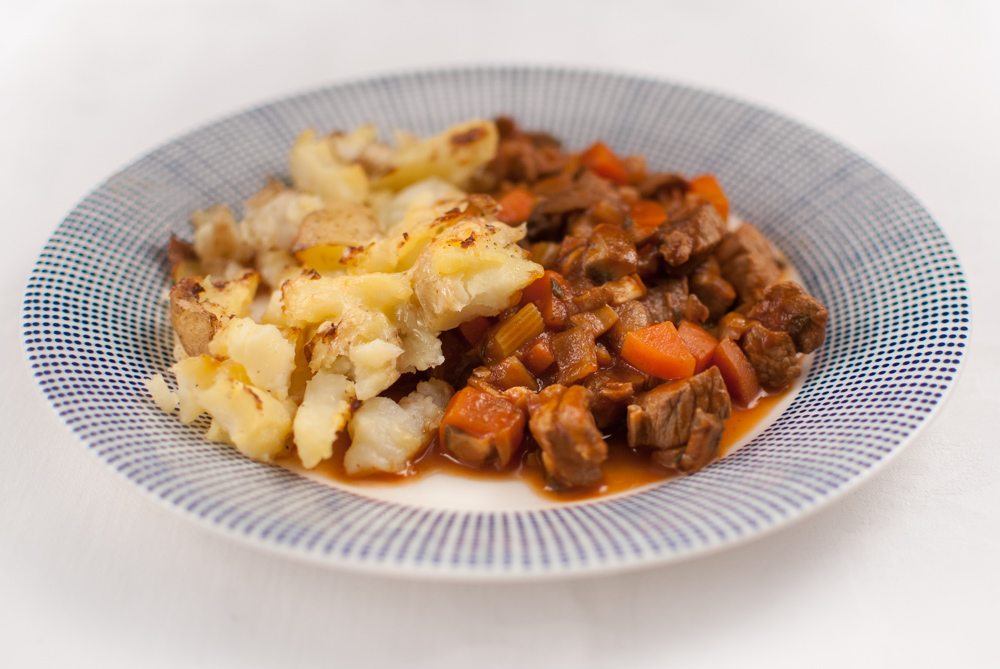 What you need
500g lamb leg steaks
1 large onion
2 sticks of celery
1 medium – large carrot
6 cloves garlic
800g small new potatoes
500ml chicken stock
300ml passata
170g portobello mushrooms
10g fresh thyme leaves
From store cupboard: salt, pepper, sugar
How Dad Cooked It
Recipe: Boil the kettle, wash the potatoes – leave skins on – and cut any larger than a small egg in half. Put the potatoes in a pan with the hot water and cook for 20 minutes or until tender. Cut the lamb steaks into small chunks and fry with a little oil on high heat in a large frying pan until browned – set aside. While the meat is frying, in a separate saucepan, add the passata, stock and half a teaspoon of sugar and simmer gently for 10 – 15 minutes. Meanwhile, chop the celery and the carrot into very small pieces, put into a heavy saucepan with a good glug of oil and saute on medium high heat. Chop the onion and smash the garlic and add to the carrot and celery – continue frying. Chop the mushrooms into very small pieces and add to the vegetable pan and fry for 5 minutes, stirring often. Finally add the thyme leaves a pinch of salt and a good grinding of pepper. De-glaze the meat pan with a little water and add the liquid and meat along with the passata and stock to the vegetable pan and simmer for 10 – 15 minutes. Drain the potatoes when done and put on an oven tray. Crush with a masher or fork and drizzle over light olive oil and a pinch of salt and pepper. Place under the grill for 5 minutes until browned. Taste the sauce and season. Plate individually – start with the sauce and then overlap the potatoes. Serve with green vegetables.
***
Tips: Using lamb steaks like this avoids the meat drying out or becoming tough. Although the dish is done in half an hour – it benefits from resting for 10 minutes with a lid on, perhaps while making side dishes of green vegetables.
Optional ingredients: A couple bay leaves will add extra flavour, add them while frying the vegetables. Try adding a dash of Worcester sauce to the sauce. A sparse grating of cheese goes very well grilled with the potatoes. Using stock is important for this recipe. Either use homemade, ready-made from a store, a tin of chicken consomme, or a stock cube to make-up a stock (follow the instructions and adjust extra salt to taste – most cubes are very salty).

Notes: Building flavour in food takes a little time and ingredients. I've used a classic soffrito of finely diced onion, carrot, celery with added garlic and mushrooms. You need a good 10 minutes for these ingredients to soften and release their flavour.

Finessing the recipe: Replace 100ml of stock with red wine – boil this to evaporate the alcohol to start with in the passata and stock pan. Garnish the finished sauce with chopped parsley.