Nasi Goreng
Time:

30 Minutes

Serves:

2

Level:

easy
Nasi goreng has become something of a national signature dish, yet it is usually made from leftovers. No surprise then that my main ingredients were leftovers. I've reconstructed a proper recipe – but actually with this dish anything goes.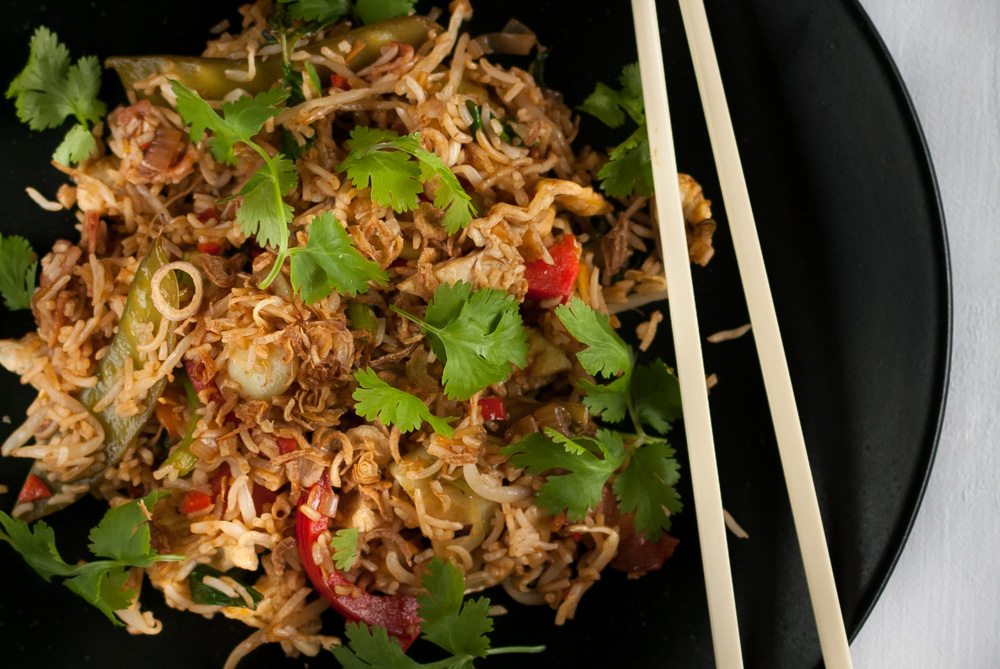 What you need
280g precooked rice – best bought ready cooked, or use leftover rice
5 rashers streaky bacon – or other leftover meat
Assorted vegetables – best as leftovers – e.g. all or some of the following: a small handful of blanched mange tout, one small sliced blanched carrot, half a red pepper sliced, a stick of celery sliced, small handful beansprouts, chopped pak choi
2 large eggs
Fried shallots – ready cooked from Oriental grocers
Fresh chopped coriander
For the sauce
1 shallot chopped
1 red chilli chopped – to taste
2 large cloves of garlic
1 tbs ginger chopped
1 tbs tomato puree
1 tsp shrimp paste – or to taste (optional)
2 tbs tamarind paste made by adding water to seeded block of tamarind – or 1 tbs lemon or lime
1 tbs ketjap manis – or 1 tbs soy with 1 tsp sugar
How Dad Cooked It
This should be made in stages. Keep everything in separate bowls in a warm place and then assemble at the end.
Make the omelettes. Heat a large nonstick frying pan and then add a drizzle of groundnut oil. Whisk the eggs in a bowl and add half to the pan, swirling the pan round until a thin even layer of egg is set on the bottom (if there is too much egg pour it back into the bowl whilst still uncooked). Carefully turn the egg over when set – when cooked remove from the pan and roll the omelette into a cylinder and slice, set aside. Repeat using the remaining egg.
Cook the sauce. Fry the shallot, chilli, garlic and ginger in a little groundnut oil using a wok or large frying pan on a medium heat for 5 minutes. Add the tomato, shrimp paste, tamarind and soy and sugar (if using) cook for 2 more minutes. NB: if using ketjap manis – add this at the end of the final stir fry.
Cook the meat and vegetables. Fry the bacon with a little oil in a wok or large frying pan until it starts to brown, add the other vegetables and stir-fry until cooked. Put in a bowl and set aside.
Stir-fry the rice. Fry the rice in a wok or large frying pan with a little groundnut oil and fry until piping hot.
Combine the ingredients. Add the other ingredients in the following order – with each stir to combine and heat through: first add the meat and vegetables to the rice, then add the sauce, then the omelettes and finally ketjap manis. Taste and adjust the seasoning.
Serve. Garnish with fresh coriander and fried shallots.