Quick and Easy 30 minute Linguini and Prawns in Tomato and Tuna Sauce
Time:

30 Minutes

Serves:

4

Level:

easy
Tuna, tomatoes and capers form the basis of this pasta sauce. It's brilliant with linguini and prawns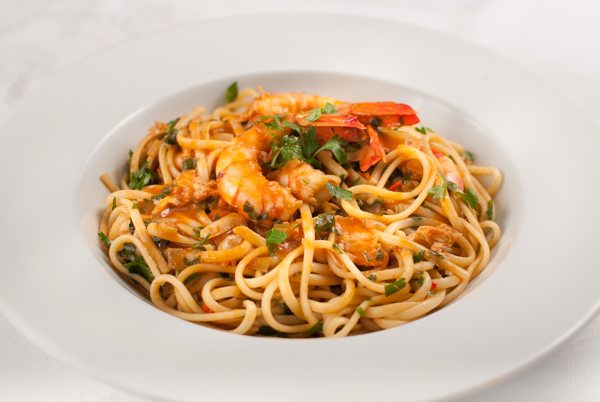 What you need
750g whole raw king prawns in shells (about 5 or 6 prawns each i.e. 20 – 24 whole prawns) or 360g raw unpeeled prawns
400g linguini or spaghetti
1 large onion
4 cloves garlic
250ml tomato passata
400ml chicken stock
1 small tin (i.e. half normal size) tuna
2 tbs capers in brine, drained
1 tsp dried oregano
20g fresh parsley
Store cupboard: salt, pepper, olive oil, vinegar, lemon
How Dad Cooked It
Recipe: Put the tomatoes into a sauce pan and bring to a simmer add a tablespoon of olive oil and put the lid on stir often, simmer on low heat for 10 minutes. Put a large heavy- bottomed pan on medium high heat. Chop the onion and add to the pan with a good glug of light olive oil, stir. Then smash, peel and chop the garlic and add to the onions,  fry for 10 minutes, stirring often. Meanwhile, boil the kettle and peel the prawns. Put the shells into a saucepan with the stock and simmer for 15 minutes and set the prawns to one side. Put the boiling water into a pan wit a teaspoon of salt and the linguine and cook until al dente. Add the tomato, oregano, tuna and capers and strained stock to the onions and garlic. Bring to a simmer and cook for 10 minutes. Add the prawns and parsley and cook for 5 minutes until done. Drain the pasta reserving some of the liquid and toss with the sauce and prawns. Loosen the sauce with the pasta water if necessary. Taste and adjust the seasoning – check the acidity and sweetness – it might need a few drops of vinegar/lemon or half a teaspoon of sugar. Serve with crusty bread and green vegetables or a salad. Garnish with chopped parsley.
***
Tips: It may seem that prawns and tuna together is overkill, but the tuna (and capers) are a seasoning and not in anyway a main ingredient. Use large raw king prawns if possible, so that the shells and heads can be used for a sauce.

Optional ingredients: Add 4 fillets of anchovies in oil added to the cooked onion and garlic and break up before adding the other ingredients. Chopped celery would work well with the chopped onion. Bay leaves would be welcome – added at the end of cooking the onion. Lemon quarters would be a good garnish.

Notes: The sauce is finished with parsley rather than basil – but you can use either or both. I like to keep basil out of my seafood sauces so there is a more defined line between various Italian tomato sauces and because basil and tomatoes are a powerful taste combination and will distract from the star of this show – the prawns. (Save basil for when it can be appreciated on its own merits, such as in a pesto, a tomato antipasto or bruschetta, or for when you want strong taste of Italy, as in simple tomato pasta sauce or a pizza.)
Finessing the recipe: Replace 100ml of stock with white wine – boil this to evaporate the alcohol before adding the stock. A drizzle of extra virgin olive oil goes well on the rice.