Japanese Chicken Curry
Time:

1 hour

Serves:

4

Level:

easy
Curry blocks were once my secret weapon in the kitchen – but you can't expect the retail giants to miss something this good, so the ingredient  – once only available from Japanese grocers – it is now widely available.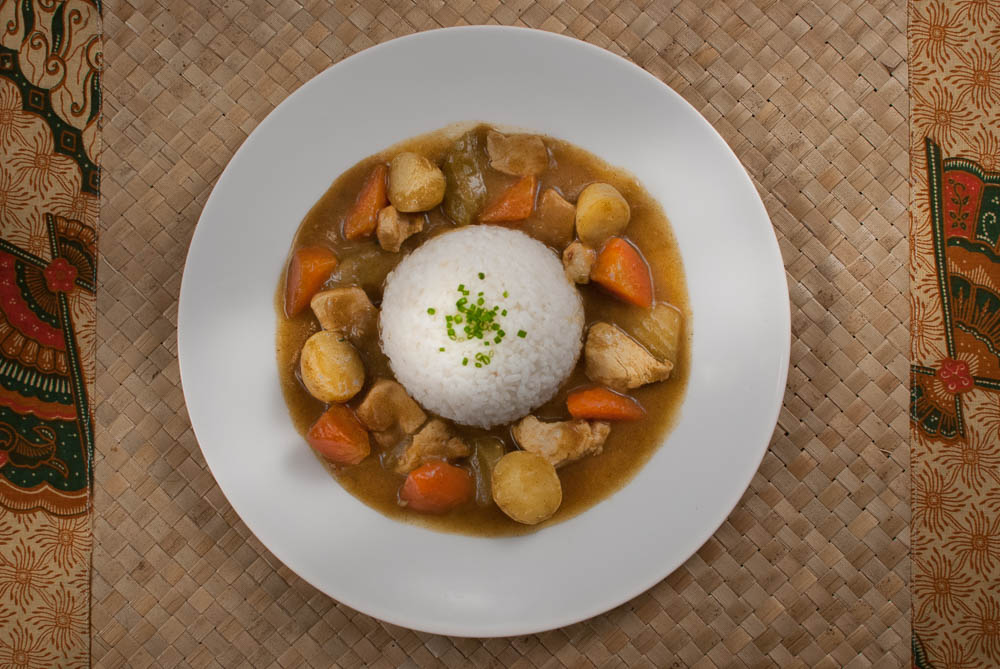 What you need
360g sushi rice
500ml cold water
4 chicken breast fillets
2 x individual Japanese curry blocks mild, medium or hot (S&B Golden Curry)
400g waxy potatoes
1 large onion
2 large carrots
2 sticks of celery
2 bay leaves
2 cm piece of ginger, peeled and chopped finely (optional)
1 chopped green chilli (optional)
500 ml chicken stock plus 250ml water
How Dad Cooked It
This is like shooting fish in a barrel – do try it. It will become a family favourite.

Start with the rice. Wash the rice for 2-3 minutes, changing water often until the water is clear. Leave it to drain for 25 minutes. Put the rice and cold water in a large heavy pan with a lid and bring rapidly to the boil. Reduce to lowest heat setting and place the lid on the pan. Cook for 15 minutes and turn off the heat leaving the lid on for a further 15 minutes. (Don't open the lid during the cooking.)
Heat the stock and water. Use a separate sauce pan and bring to the boil.
Prepare, fry and boil the vegetables – then make the sauce. Wash, peel and chop the vegetables. Put into a large deep pan along with the bay leaves and add the ginger and chilli, if using. Fry gently in a large deep pan for 10 minutes. Add the hot stock and water and bring to a simmer cook for 15 minutes – or until the potatoes and carrots are nearly cooked.
Prepare fry the chicken. Chop the chicken into small pieces and stir fry until just under-cooked. Cook in batches and set aside in a bowl.
Finish the sauce. To finish the sauce, peel and make very thin julienne pieces of ginger about 2 cm long, chop the curry cubes and add the ginger and curry to the pan stirring until the cubes have dissolved – continue to simmer for 5-10 minutes until the vegetables are still firm but tender. About 5 minutes from the end of cooking add the cooked chicken until and heat until the chicken is hot and cooked through.
Assemble and serve. Serve with rice and curry sauce. Edamame beans would be a good side dish.