Asparagus Spring Roll
Time:

2 hours

Serves:

8

Level:

medium
There is no denying it – these are a quite time consuming. For this reason it's better to make a bigger batch and freeze what you don't use. (Deep fry the frozen spring rolls from frozen, cook for a little longer and they will be fine.)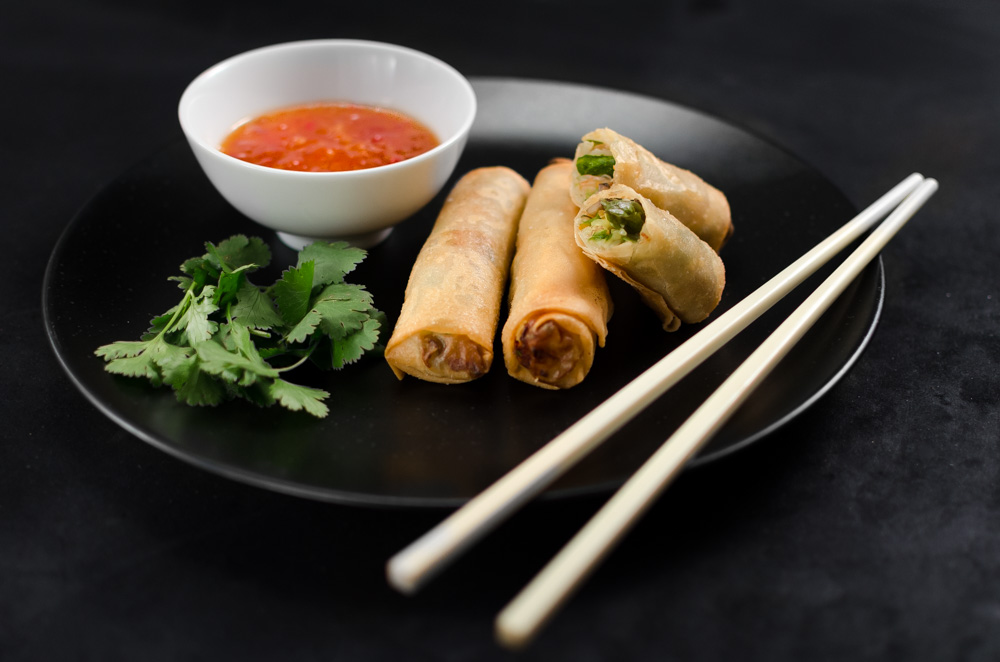 What you need
Makes 25-30 spring rolls
500g asparagus
100g cooked North Atlantic prawns
50g cooked sliced ham, chopped
50g vermicelli rice noodles
200g mushrooms
70g mange tout
150g Chinese lettuce
125g bean sprouts
1 medium carrot
1 green (mild) chilli
70g spring onion
30g ginger
1 large or 2 small garlic cloves
Pack of large spring rolls sheets (at least 30) frozen from Oriental store
Dressing
1 tbs fish sauce
1 tbs palm sugar
1 tbs light soy sauce
2 tbs lemon
2 tbs water
1 tsp sesame oil
1.5 tsp grated ginger
Dipping sauces
readymade sweetchilli sauce
Soy sauce with lemon (quick ponzu)
3 tbs soy sauce
2 tbs lemon
1 tbs water
1/2 tsp sugar
How Dad Cooked It
1. For the asparagus, trim the stalk and peel the spears, rinse and boil in water for 3 minutes until firm but tender. Drain and rinse in cold water. Drain again on kitchen paper. When drained slice diagonally into 3cm lengths.
2. For the noodles place in boiling water, turn off the heat and soak for 10 minutes. Drain and rinse in cold water. Place in a bowl with a little sesame oil and mix.
3. For the mushrooms, remove the stalks and chop, slice the mushroom in half and slice each half thinly. Place in a frying pan with a tablespoon of oil, fry until browned all all liquid has evaporated. Cool and set aside.
4. For the bean sprouts, mange tout and Chinese lettuce par boil each separately in a large pan of boiling water for 1 minute each (use the same water). Rinse each in cold water and drain. Chop the mange tout and into small pieces, and the Chinese lettuce into strips.
4. For the carrot, wash and peel, then use a Julienne peeler to make Julienne strips. For the chilli, cut in half lengthwise, remove the seeds and pith and slice across the chilli into thin short strips. Chop the spring onions, peel and chop the ginger and garlic.
5. Mix all the above ingredients in a large bowl.
6. Let the wrappers defrost. Place a wrapper on a work surface with a small bowl of water. Wet the top corners of the wrap with your fingers. Place a large heaped spoon of salad onto the paper in the middle toward the edge nearest you. Fold the bottom over and pull back to make a tight pack, roll it over half a turn and pull in the sides perpendicular to the roll, then continue roll. Wet the top flaps of the wrap and continue to roll to seal. Transfer to plate, and repeat for the remaining rolls.
7.Heat a large pan with oil and bring to 180C. Fry the rolls in batches for about 3-5minutes until browned and cooked through. Transfer to a plate with kitchen towels to drain. Keep warm.
8. Serve with the dipping sauces.