A Wagashi Birthday Treat
Posted by

Mr WDC
Jun 3, 2018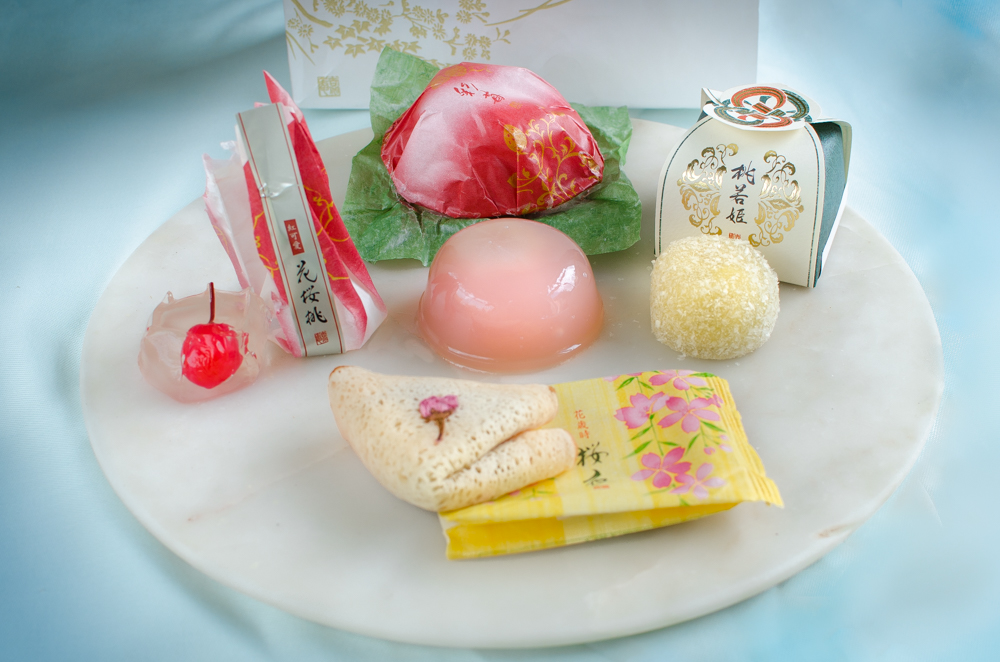 A dear friend made a trip to the Minamoto Kitchoan in Piccadilly London and bought a bag-full of wagashi delights for my birthday.

There were four sweets in the bag and though this does not sound a lot, four wagashi from Minamoto Kitchoan is bounty indeed. Each is like a work of art, each an exquisite example of Japanese kaisen and each worthy of our unhurried admiration. The eating of wagashi is a contemplative affair. We must pause to appreciate the masterful packaging design, wonder at the perfection of the confectioner's art and then allow the palate to fully absorb the smooth and delicate textures and fragrant fruit flavours.  It's a Japanese thing – almost a ceremony – and indeed, it's traditional to eat wagashi with green tea, which itself is a ceremonious celebration.
The sweets are promoted as being full of sun-kissed natural goodness and they taste as beautiful as they look: subtle, sumptuous, delectable and refined.
A common feature in most Japanese sweets is the use of red bean paste, usually made from adzuki beans, but also kidney beans or white beans. It's an acquired taste and one that seems odd to a Western palate. Whereas we might construct a sweet with a sugar-packed centre made of pistachio, chocolate ganache or praline, the Japanese use a subtle mix of beans and sugar. We may be familiar with the idea of beans and sugar from the tinned version of baked bean or Boston baked beans steeped in rich molasses, but these beans are savoury – not a sweet treat. Once we put our culinary prejudices aside, there is much to enjoy about this mixture. Two popular sweets which feature bean paste are the dorayaki, a small round double pancake with bean filling – the pancake above is a a more sophisticated version of this – and daifuku, a rice cake filled with bean paste. Perhaps the next most prominent ingredient in wagashi is glutinous rice, most often made into mochi, a bon-bon type dessert which includes the popular frozen mochi filled with ice cream. The light green sweet in the photo is a type of mochi.
If these wagashi are works of art, then Minomoan Kitchoan is like an art gallery. We enter the store tempted to bow in respect of the hallowed interior beyond. Behind the cool glass cabinets and beneath the marble counters are the wagashi. If ever there was a demonstration of less-is-more, this is it. The displays and the decor are minimal. The staff are immaculately dressed in co-ordinated outfits that blend effortlessly into the surroundings. We might think we have been transported to Japan. But be warned, if we speak metaphorically of these sweets as works of art, we should not be surprised if they are also priced as works of art. But don't let this put you off – it's well worth the trip, if only to experience the store. And rest assured, any sweet you do buy will be special. Especially if bought as a birthday treat!
The wagashi above are HANAOUTO (CHERRY JELLY) Whole cherry covered with sweet-sour jelly, AYAICHIGO, strawberry flavoured white bean paste covered with KUZU starch glaze, SAKURAGOROMO, sweet red bean paste wrapped with cherry blossom leaf and Japanese crepe, MOMOWAKAHIME, small peach wrapped with peach flavour bean paste and soft rice cake.
A Wagashi Birthday Treat
A dear friend made a trip to the Minamoto Kitchoan in Piccadilly London and bought a bag-full of wygashi delights for my birthday.
Sweet Corn Memories
Growing up in Southern California in the 60s, our family was fussy about its corn…