10 Coffee Shops to Stop by on your Foodie Travels
Posted by

Leo
Dec 21, 2016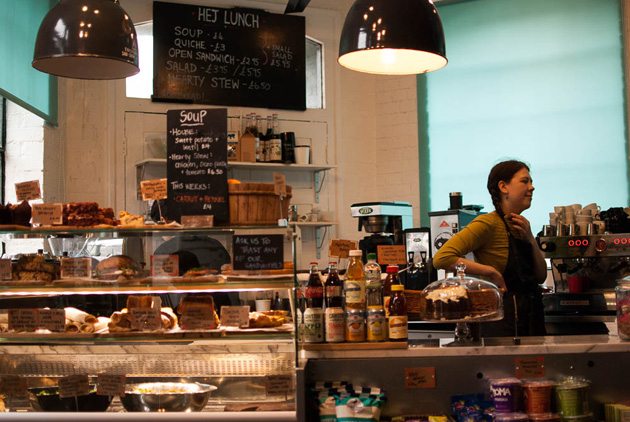 1.Scooter Caffe and Travelling Through
Step into the Scooter Caffè and revel in the seductive ambience of the jazzy continental bar within. Travelling Through is a bookshop with a heart and soul that aims to connect people through its 'culture hub' and art space. The downstairs offers a calming place to enjoy a coffee, slice of cake and look at the art or read a book.
Lower Marsh
2. Four Corners
Four Corners is riding high with their award for the best coffee shop in the UK in 2015. Plan your next trip around the world with their travel guides and maps.
Lower Marsh
3. My Place
The cool and jazzy My Place (their paninis are delicious).
Berwick Street
4. Hej Coffee
Hej Coffee is a welcome bolt-hole from the over-concreted Bermondsey Square. The coffee and the food are excellent at Hej (order the 'viking balls', a WDC favourite), which brilliantly crams its space with scandi decor. This includes the very Swedish sculpture-in-residence Eric the Moose.
Bermondsey Square
5. The Nordic Bakery
The Nordic Backery, a peaceful Soho Scandi-coffee shop on New Cavendish Street. The choice of food and drink is only slightly more varied than their slogan: 'dark rye bread, cinnamon buns, coffee', but then all you really want is one of their amazing cinnamon buns anyway.
New Cavendish Street
6. I Love Nata
I Love Nata is a case in point. It sells two products: coffee and nata (the celebrated Portuguese tarts). Check out Dad's pastel de nata recipe here, but anyone on a mission to find one of the best in town needn't go further than this shop — they've got the best nata outside of Portugal.
Endell St
7. The Watch House
The Watch House is a favourite and sells luxury artisan coffee and food in its converted guardhouse.
Bermondsey Street
8. Monmouth coffee
Monmouth Coffee has become a legend on the London coffee scene, with a great range of blends for the winter months. Try the Gititu from Kenya for its rich seasonal taste – it has a hint of cherries, citrus, sweet caramel and cloves.
Spa Terminus
9. Love & Scandal
Love & Scandal was recently voted London's most-loved café in Time Out Love London Awards – it attracts a motley crowd in its unfinished-ply interior.
Lower Marsh
10. Fabrique
Bask in the deliciousness of the Swedish bakery Fabrique for a traditional fika (coffee break) with a cardamom bun – how cardamom ended up in something so Swedish is a mystery, but the taste is a revelation. The bread is good too.
Earlham St
Have a read of our foodie street series below.
Lower Marsh
Seven Dials
Berwick Street
Bermondsey Street and Square
Marylebone Hight Street
Clerkenwell Road
Spa Terminus
A Wagashi Birthday Treat
A dear friend made a trip to the Minamoto Kitchoan in Piccadilly London and bought a bag-full of wygashi delights for my birthday.
Sweet Corn Memories
Growing up in Southern California in the 60s, our family was fussy about its corn…