A Kerfuffle of Parma Ham…
Posted by

Mr WDC
Dec 17, 2016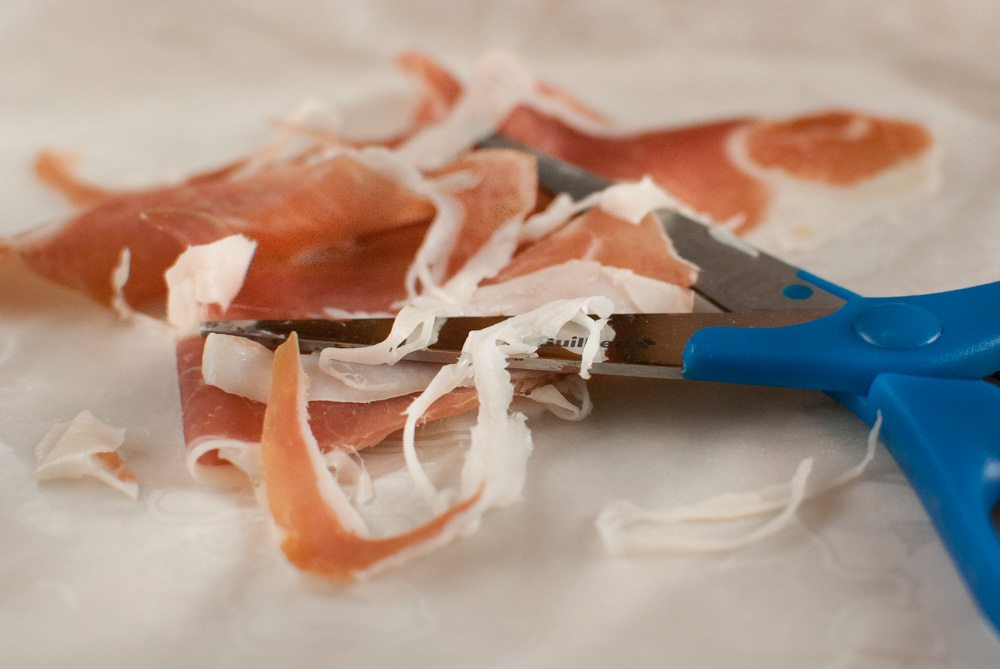 Whilst shopping at the farm shop, I went to the delicatessen counter to buy some Parma ham for an antipasto. But there was a problem: the ham joint was near its end and had a very thick border of fat around the outside. Buying ham with this much fat is not only a waste of money, it's not very attractive or healthy. The proprietor of my local Italian delicatessen understands this and simply carves away most of the excess fat before slicing the ham on the machine. I suggest this approach to the assistant, but she says she must slice the ham with the fat. Perplexed, I politely decline and wander off to continue my shopping.

Ten minutes later I am chased at the other end of the store by the same assistant, now excited and smiling, 'Sir, sir, my supervisor says I can cut off the fat!'
Oh good! Naturally, I accept the offer and we both return to the counter encouraged by this positive turn of affairs. But unfortunately, my restored confidence quickly wanes. The assistant is not cutting the fat off the joint first. Instead she slices the ham joint intact on the machine and then spreads each slice over the counter top, then picking up a pair of scissors, slowly and meticulously attempts to snip the fat from over 20 slices of ham. The scissors are not sharp, the fat is fiddly and the whole process painfully slow and embarrassing. I offer to buy the ham as it is, but the assistant is determined and carries on cutting fat… Meanwhile, there is a queue forming. I am beginning to feel guilty as customers look at me with the kind of glare in their eyes that says, 'Did you ask this lady to cut your ham with scissors?' I avert my gaze and shuffle about as I wait…
Eventually, the fat removal process is finished and the assistant weighs and wraps my package. She's flustered and fraught, recognising that something was not quite right, but still manages a smile for completing the task. I thank her and walk off to pay for my shopping. I'm distraught. How will it be possible to eat this ham? It caused such a kerfuffle – it must be jinxed! Rather than re-enact the ham  slicing episode by presenting my ham in an antipasto, I decide to cook it in a taglierini (see recipe here). It turns out the ham was not jinxed – it was delicious.
25 Go Mad in Franco Manca
A new Franco Manca restaurant has just opened in Richmond. WDC was invited, with around 20 other influencers, to the soft launch.
To Confit or Not to Confit
How can we say we're 'worth our salt' unless we've submitted to the mysteries and heartaches of the confit and lived to tell the tale?
Sweet Corn Memories
Growing up in Southern California in the 60s, our family was fussy about its corn…
Notes on Quick and Easy Cooking
I've recently posted a series of 'quick and easy' 30 minute recipes which have unexpectedly made me think again about the hyped-up online food industry – and my own cooking.
British Pie Banquet at The Thomas Cubitt
In case you didn't know, this week is 'British Pie Week' – a fact that might have inspired The Tomas Cubitt gastro-pub to celebrate by hosting a British 'Pie Banquet' earlier in the week.
Pass the Gravy Please!
Gravy is a perfect sauce; meaty, smooth, stimulating to the palate – and it makes our food taste better.
Why a foodie should walk down… Clerkenwell Road
Clerkenwell Road is part of a route linking east and west London, yet with its quiet passages and historic square it has the character of an intimate neighbourhood. It's also home to a variety of foodie venues serving Clerkenwell's creative community. Here's some of our favourites.