Smoked Trout, Potato and Cucumber Salad with Dill
Time:

1

Serves:

1

Level:

easy
Dill is the main player here – you can leave it out, but you will be missing a classic combo of dill with smoked fish, cucumber and potato – what's not to like?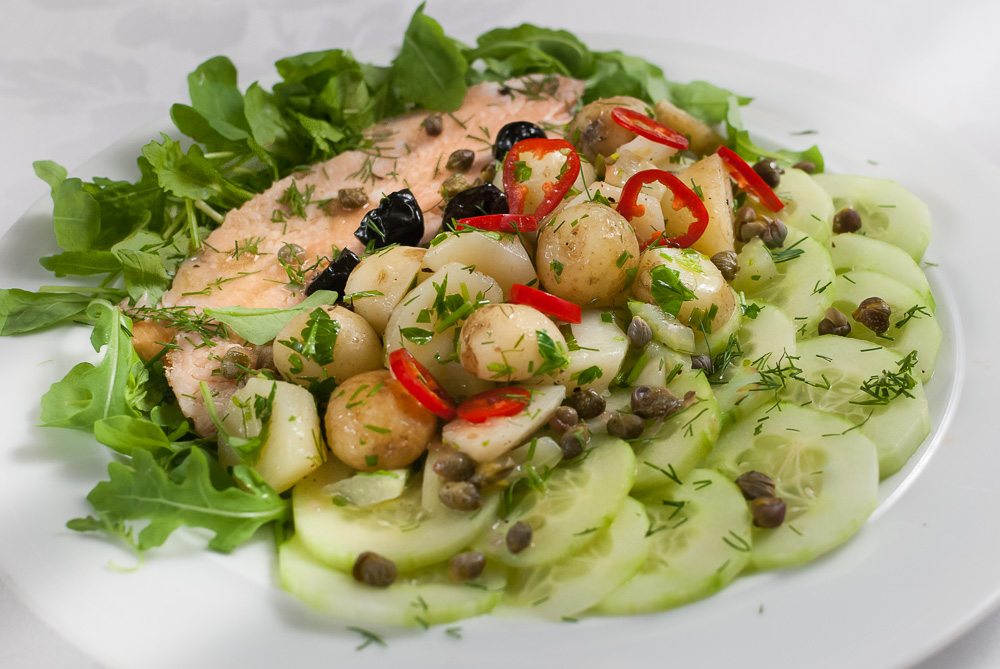 What you need
150g – 200g smoked trout fillets
700g – 800g new potatoes
1 or 2 cucumbers
2 sticks of celery
Approx 200g washed and dried salad leaves such as rocket, watercress or baby spinach
3 tbs capers in vinegar or brine and rinsed
Small bunch of dill chopped
2 tbs white wine vinegar, 1 tsp mustard (optional) 6 tbs olive oil
2 lemons cut in quarters
1 chilli sliced (optional) and dried black olives to garnish (optional)
Salt and pepper
How Dad Cooked It
Unwrap the fillets to let them air.
Boil the potatoes – peel if you like. Boil until tender but firm.
Chop the celery into a fine dice.
Make the dressing by mixing the vinegar, mustard (if using) and oil. Mix the celery and half the dressing in with the cooked potatoes. The warmth of the potatoes helps to absorb the dressing.
Peel and slice the cucumber – this is the other main ingredient apart from fish and potatoes so be a little generous.
Plate and serve. Place leaves on one side of the plate and layers of cucumber on the other. Place the trout fillets over the salad and pile potatoes in the middle. Drizzle more dressing over the trout and cucumber. Sprinkle with capers and dill. Garnish with olives and chilli (if using). Season with salt and pepper and serve with lemon quarters.
NB: There is no onion in this dish – it helps to keep it light and digestible. However, you could add chopped spring onions or chives to the potatoes.