Quick and Easy 30 Minute Spanish Rice with Monkfish
Time:

30 Minutes

Serves:

4

Level:

easy
This is a style of Spanish rice that is a cross between a soup and a paella. Or call it a very runny risotto, either way, it's really good. My quick and easy method eliminates all the anxieties over paella and risotto. What's more for those that don't like shellfish or saffron it's still packed with loads of Spanish holiday flavour.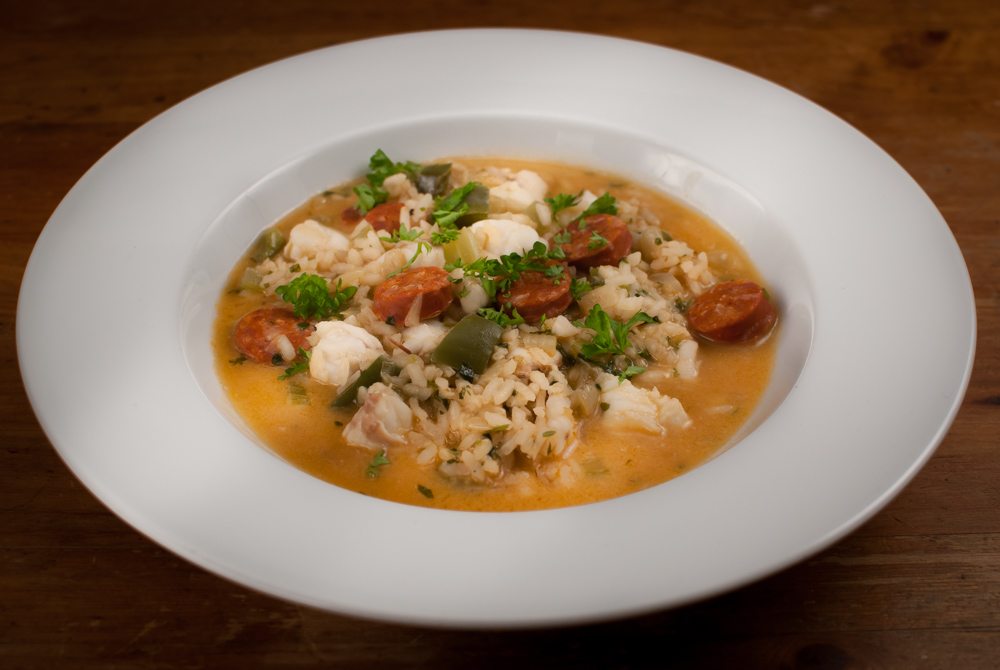 What you need
700g monkfish
3 sausage-sized cooking chorizo – picante
1 large onion
2 sticks of celery
4 cloves garlic
1 large green pepper
250g risotto rice
1 litre chicken stock + 300ml water
25g fresh parsley
2 Lemons
Store cupboard: Salt, pepper, oil, olive oil
How Dad Cooked It
Recipe: Put the rice in a bowl of cold water, set aside. Put the stock and water in a pan and bring to a simmer. Put a large heavy- bottomed pan on medium high heat. Chop the onion and add to the pan with a good glug of light olive oil, stir. Chop the celery and add to the onions. Them smash, peel and chop the garlic and add to the onions and celery. Slice the chorizo and chop the pepper and add to the same pan, stir and fry for 5 minutes. Meanwhile, remove the membrane from the monkfish using a sharp knife and chop into chunks. Drain the rice and add to the pan stirring for a minute. Add the hot stock and water, bring to a simmer, stir and put on a lid and cook for 15 minutes. Finely chop 20g of parsley, season the fish with a good pinch of salt and plenty of grated pepper and add with the fish to the rice, bring to a gentle simmer, put the lid on and cook for 5 minutes or until done. Squeeze half a lemon stir and taste and season. Garnish with extra chopped parsley. Serve with a lemon quarter, crusty bread and a salad.
***
Tips: This method of cooking rice is exceptionally easy, once you get used to the idea of the liquid base, you'll wonder why we don't eat rice like this more often. For the monkfish, you really need to remove the slimy grey membrane – it eats very differently without membrane, it's tender but stays in nice neat chunks. If you don't have the tools or inclination ask the fishmonger to do it for you.

Optional ingredients: You can use any firm fish, or indeed shellfish. However, with fish other than monkfish or haddock, resist stirring the rice so the fish does not disintegrate. A pinch of saffron would be very welcome – add at the same time as the stock. Using stock is important for this recipe. Either use homemade, ready-made from a store, a tin of chicken consomme, or a stock cube to make-up a stock (follow the instructions and adjust extra salt to taste – most cubes are very salty). NB: using chicken stock is useful trick for fish-based dishes commercial stocks can be… well, a bit too fishy.

Notes: The chorizo I used is picante, but the spiciness varies between brands – for those worried about spice, buy the dulce type which are not hot. The trick with this recipe is that the chorizo has Spanish smoked paprika and chilli in the meat, which eliminates the need to add or buy extra ingredients. Cooking with green pepper is not at all like cooking with red. Red is sweet and mellow, green is sweet and bitter. This bitterness is critical to the paella-like flavour. Bang for buck this ingredient adds more than its weight to the overall flavour. Soaking the rice at the beginning gives the rice a little head start and allows the dish to be done in half an hour.

Finessing the recipe: Replace 100ml of stock with white wine – boil this to evaporate the alcohol to start with in the stock and water pan. One or two prawns in their shells or mussels would add to the attraction of the dish. A drizzle of extra virgin olive oil goes well on the rice.