Hangover Eggs
Time:

20 minutes

Serves:

1

Level:

easy
When you're needing some carbs and protein and a kick to the system these sausages and eggs are just the ticket.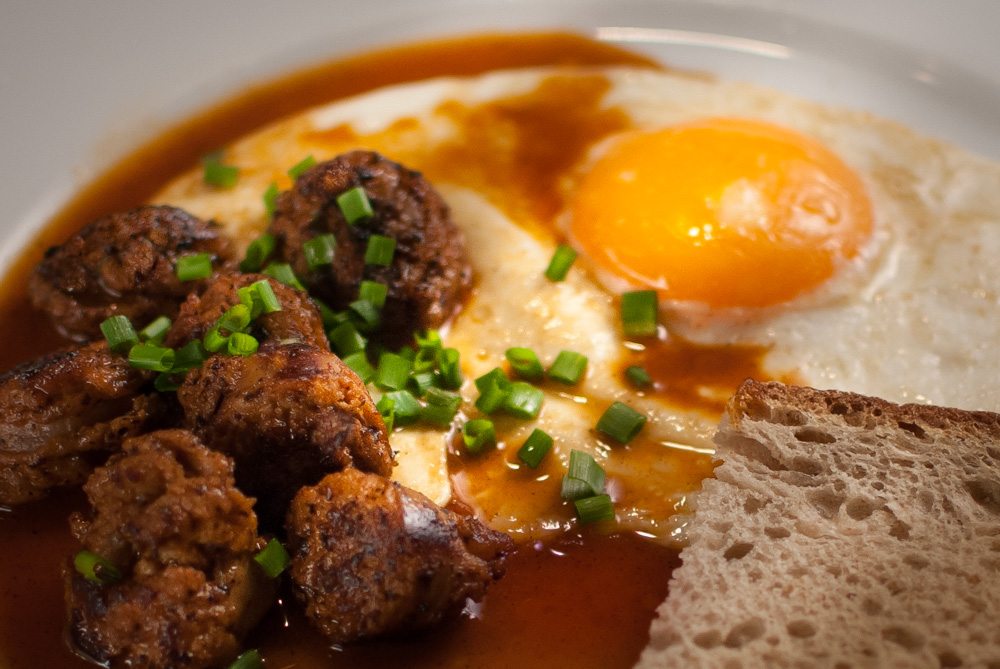 What you need
1 or 2 eggs, cooked as you like
1 or 2 sausages (leftover sausages are good, even leftover salami)
1 cup chicken stock
1 small shallot chopped
1 tsp tomato puree
1/4 tsp sugar
1/2 – 1 tsp smoked 'hot' Spanish paprika
A few herbs such as thyme, bay, oregano and rosemary (optional)
1/2 tsp sherry vinegar or other vinegar – or squeeze of lemon
Butter and salt and pepper
Small bunch fresh chopped chives
Toast
How Dad Cooked It
Eggs in a spicy broth. The idea came from trying to make an ordinary sausage taste like a chorizo. In fact this is better than chorizo with eggs – it's milder and easier on the stomach but still has the kick of smoked paprika and chilli. The dish really needs some chicken stock – if you don't have fresh stock use a can of chicken consomme or a stock cube. 
Put the shallot in  pan with the stock and bring to a simmer, add the herbs if using and the tomato paste and sugar. Simmer whilst the sausages are cooking – it should reduce to about half a cup.
Fry the sausages until done or nearly done. Cut the sausages into chunks and fry again to lightly colour.
Drain the fat from the sausage pan and strain the stock into the pan. Add the paprika to taste and the vinegar. Let the liquid simmer and reduce a little.
Fry the egg in some butter and toast some bread.
Put the egg on a plate and add the sausages and broth. Add chopped chives and serve with toast. Season to taste.