Kisir, Grilled Aubergine and Fresh Cheese
Time:

1 hour

Serves:

4

Level:

easy
This uses some fresh cheese that I had just made – but you could use bought fresh cheese, fresh goats cheese, grilled halloumi, feta or a yoghurt salad or dressing.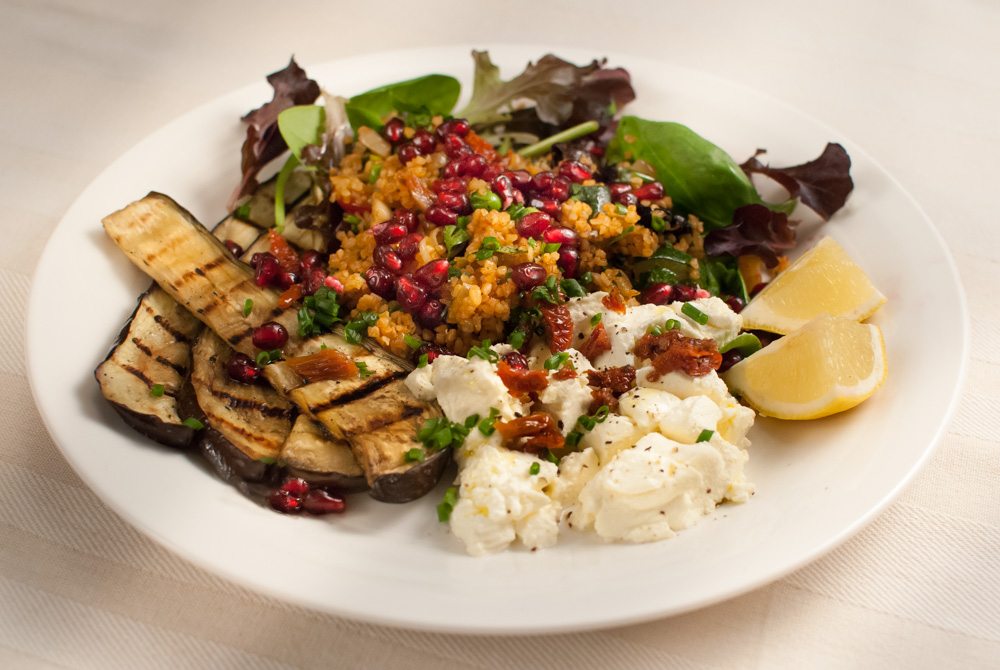 What you need
2 large aubergines sliced
Fresh dairy ingredient, e.e. fresh cheese, goat's cheese, feta, grilled halloumi, yogurt salad or yoghurt dressing (I used fresh cheese with sundried tomatoes as a garnish)
Four handfuls of salad leaves
400g bulgar wheat
1 cup tomato passata
320ml water
2 onions chopped
4 small cloves of garlic chopped finely
2 small courgettes cut into attractive small pieces
2 sticks celery chopped finely
1 green chilli chopped
1 tsp ground cumin
1 tsp ground coriander
2 tsp dried oregano – or fresh thyme leaves from several sprigs
Large handful fresh parsley chopped
Small handful fresh mint chopped
Small handful chopped chives
Pomegranate seeds to taste
2 tsp pomegranate molasses – or more to taste
Handful dried black olives – or similar
12 baby plum tomatoes quartered
4 lemons
Light olive oil and good virgin olive oil
Salt and pepper
How Dad Cooked It
This dish is a celebration of pomegranates. But not just any pomegranates, Sicilian pomegranates. They are naturally in season now in Italy. This one was flown in by Natoora and the size of a melon. Apart from its size the, enormous weight is a sign of the wonders inside. The fruit is stunning when its this good. They are packed full of deep red juicy fruits and hardly any pip. Buy a Natoora pomegranate and scatter it over variations of  this themed-meal using what ever cereal you have to hand, couscous, barley, farro or brown rice… NB: with a pomegranate this good – do not bash the poor thing with a spoon as is often shown on tv. Delicately cut and pick away, gently prising each precious fruit from it surrounding pith.
Prepare the aubergines. I do not fry my aubergines in oil, nor do I smother then in olive oil for the griddle pan. In the first instance the aubergines become inedible with the amount fat they absorb, in the second instance the olive oil can burn and taint the food – a very common problem I find in restaurants. The way I cook aubergines is to dry fry in non-stick pan  until coloured and then add oil to finish cooking, or to brush with oil and roast in the oven on a rack. Here I used both techniques: first to colour on very hot griddle pan and then brushed with plenty of oil put in the oven to finish cooking – where they can also stay warm with the heat off or on low until the meal is ready. NB: it's best to make the slices rather thick so they do not dry out. For the same reason cover with foil when cooked in the oven.
Start the kisir. In a heavy pan pour in about 3 tbs of light olive oil. Fry the onion and celery gently for 5 minutes on medium high heat, stirring so that it does not burn. Add the chilli and garlic and continue stirring and cooking for 5 minutes or more until translucent. Add the cumin and coriander and stir for 30 seconds, then add the tomato passata and fry for 2 minutes then add the water and bring to the boil. Add the bulgar wheat return to the boil and stir for 1 minute. Put a lid on the pan and turn off the heat. Allow to come to room temperature.
Finish the kisir. Steam the courgettes until cooked but firm and cool. In a large bowl add the herbs, courgettes, tomatoes, olives, bulgar wheat, molasses and mix. Season and dress with virgin olive oil and plenty of lemon.
Serve. Plate the salad, aubergines and dairy ingredient. Sprinkle with pomegranate seeds.