Thank You to All Our Supper Clubbers
Posted by

Mr WDC
Aug 29, 2017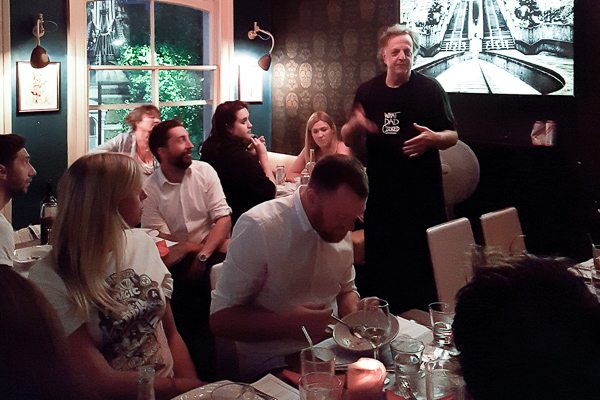 Our first What Dad Cooked supper club was a great success. We're still buzzing from the excitement. Thank you to everybody who bought tickets through Grub Club to California Dreamin' at the Beast of Brixton, you were all amazing and we loved cooking for you. In particular, thank you for your rapturous and vocal appreciation throughout the night, it made the evening so special for all of us – a night we'll always remember.
Half our guests were people who were not on our networks, and many of those were Americans living in London. From what could tell on the night, the American menu was a real draw. Hearing one American guest say that my blueberry cheesecake was '…just like grandma made' encapsulated the spirit of growing up and eating in California. I even managed to convert a few more people to the joys of artichokes!
Those who know the WDC blog and read my recipes will know that most of the food I cook comes with a story. Therefore, it was a pleasure to be able to share some of my culinary memories.
As you might expect on our first outing, we faced many challenges. But the WDC family rose to the occasion and excelled. Pete and Leo were not only brilliant at helping to organise the night but also at making playlists, drawing lovely place mats, plating, serving and clearing the decks. Thanks especially to Mrs WDC for being such a dedicated and efficient 'plongeur' and champion supporter of the cause.
Thanks also to Will and Jimmy at the Beast – their encouragement was decisive. It was a wonderful venue and played a huge part in creating the night's fantastic vibe. Finally, thanks to our suppliers who reliably and diligently fulfilled our orders with great produce. (See references below.)
We look forward to our next supper club and seeing you all again soon.
Tequilla Sunrise cocktails were waiting for guests as they arrived.
Printed map with locations and menu associations formed place mats.
Mexican quartet to start. Fish tacos, flautas, escabeche of jalapeno chillie, refried bean tostada. Tortillas, poblano raja, pintos, epazote from Mex Grocer.
New England clam chowder – just like mom made it! Clams were superb – as you would expect from Jarvis fish in Norbiton.
Globe artichoke vinaigrette. Bang in season and excellent quality – sourced not from Castroville California, but Garsons Farm in Esher.
Buttermilk fried chicken and coleslaw. Just as I remember from Knott's Berry Farm. Chicken sourced and prepared by CD Jennings and Sons, Surbiton.
Bavette steak sandwich with wedge of iceberg lettuce and Roquefort dressing. This was my Dad's favourite dinner. Steak from CD Jennings and Sons.
Blueberry cheesecake. My recipe is very light – it needed to be after five courses! It's a stunning combo – possibly better than my strawberry cheesecake.
Brilliant mix of new guests and friends. Thanks again to all of you. Let's do it again soon!
A Wagashi Birthday Treat
A dear friend made a trip to the Minamoto Kitchoan in Piccadilly London and bought a bag-full of wygashi delights for my birthday.
Sweet Corn Memories
Growing up in Southern California in the 60s, our family was fussy about its corn…