The Power and Pleasure of Pesto
Posted by

Mr WDC
Sep 10, 2017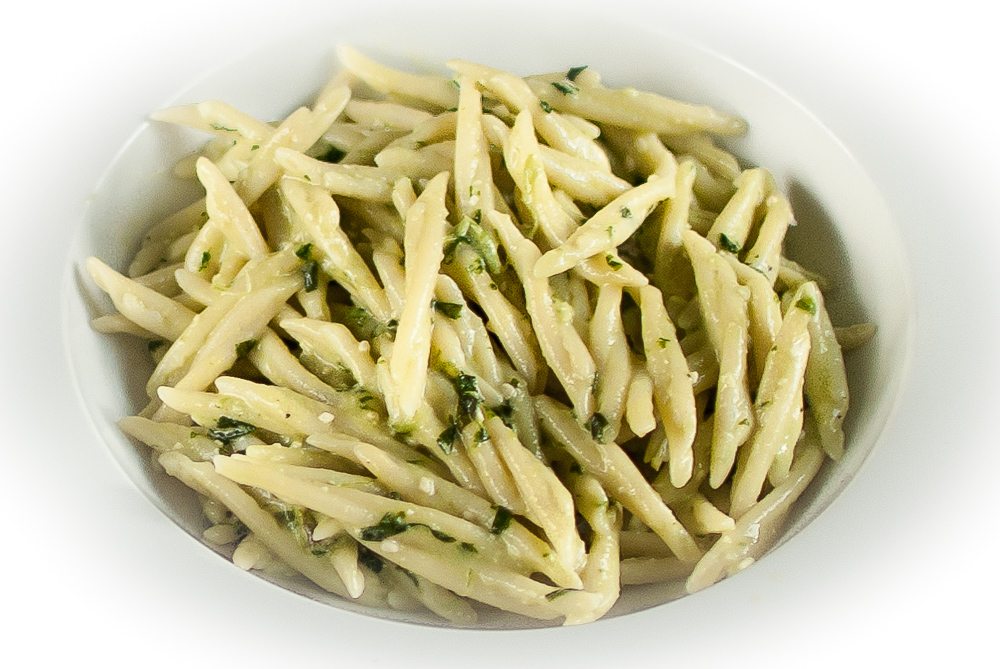 The power and pleasure of pesto
When I worked in Soho, we would occasionally pop out at lunchtime for a plate of pasta al pesto. Those were the days when The Stockpot was still in business and Soho abounded in 'cheap and cheerful' Italian trattorias. Ordering pesto always caused a stir. The kitchen doors would burst open, releasing a pungent garlicy plume into the dining area. Customers would recoil and wince from the powerful blast. Whilst we may not have had the approval of our fellow diners, the dish never disappointed, it was immediately satisfying and very good value. Unfortunately, instant gratification came with unwanted side-effects: grumbly alimentary malfunctions would persist throughout the day – leaving a tell-tale trail of whiffs and pongs throughout the office – much to the displeasure of colleagues.
With pesto this powerful it should have come with a health warning. But this would have been unfair on the pesto. How many of us really knew then – or know now – what real pesto should taste like? It's difficult to find pasta al pesto these days as it rarely features on restaurant menus. We might hope for an invite to Chez LocatelliI or Chez Carluccio for enlightenment, but even in these illustrious Italian kitchens the result is likely to be inconclusive. I've delved into my library, well-stocked with Italian cookery books, and even here I cannot find a consensus on what makes the perfect pesto. Researching further, I've discovered that if we want to know the true flavour of pesto we'll have to go to Genoa in the Liguria region of Italy. This is where pesto originates and it's also where the best basil is grown.
For those of us who might be a little busy to hop on a plane for Genoa, let's try to imagine a genuine pesto experience. A pesto alla Genovese would surely be gently perfumed with the fragrance of Genovese basil, glowing with grassy floral scents and notes of spice. The aroma undoubtedly would be heady and warm, the kind of warmth that only emanates from herbs grown in the full heat of the Mediterranean sun. The sauce we surmise, will be elegant and smooth, blended with delicate sap-like freshness of Ligurian olive oil and thickened with a balanced mix of tangy pecorino and buttery Parmesan. Italian garlic and pine nuts would complete the sauce, providing creamy texture and shades of earthy garlic and nuts. But if we are still worried about the powerful side-effects of pesto, we should be assured that Italian pine nuts are not chemically treated, so there is no danger of any lingering metallic tastes. Further, we know that Italian food is never harsh or overpowered with garlic (contrary to the practice of some of London's Soho trattorias of the past). So we can be confident that a Genovese pesto will taste soft and please the palate, both during and after the meal…
Whilst dreaming of the Ligurian coastline and imagining our perfect Genovese pesto, perhaps we might attempt our own sauce nearer home. My advice would be to use a small amount of garlic, find the freshest and youngest basil you can buy, seek out Italian pine nuts, buy a mild and fragrant virgin olive oil and use an aged parmesan and pecorino. Add only add a spoonful of sauce to any plate of pasta. If it is not the most wonderful thing you have tasted – then congratulate yourself for trying and then book that trip to Genoa.
A Wagashi Birthday Treat
A dear friend made a trip to the Minamoto Kitchoan in Piccadilly London and bought a bag-full of wygashi delights for my birthday.
Sweet Corn Memories
Growing up in Southern California in the 60s, our family was fussy about its corn…