How Many People will a Salmon Feed?
Posted by

Mr WDC
Nov 3, 2016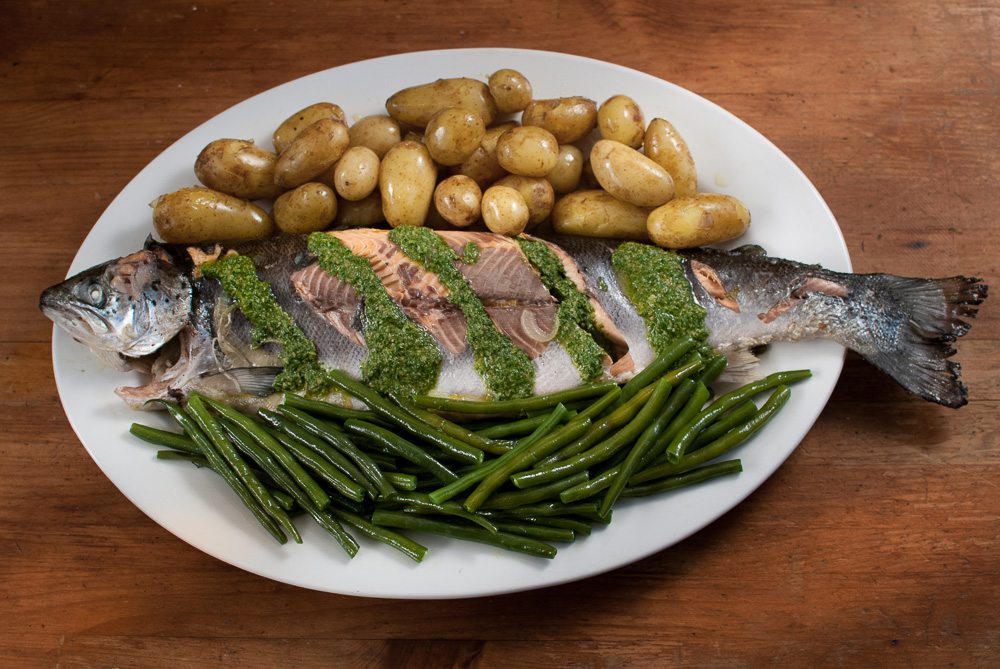 It's a Friday and Darren Poulter, the fishmonger is plying his wares: 'Lovely wild sea bass today, beautiful Cornish mackerel, line caught cod….' I joined the long queue and waited my turn. I didn't mind waiting; the beautiful display of fish is an attraction in itself – and besides, Darren has such a charming and chatty manner it's a pleasure to watch him work.
As I get near the front of the queue, the man in front is asking about his special order. I sensed I might need to wait a while longer… Darren charged off to his cold store. A few minutes later he returns with a very handsome, but somewhat diminutive, whole salmon. Clearly wanting to accentuate the positive, Darren launches into his sales patter: 'Lovely sustainable farmed fish from Scotland, hand-reared by Wester…' before he could continue he was abruptly interrupted: 'How many people will that feed?' Darren paused, vying for some time to work through his answer… 'Hmmm, well, let's ask this man here,' turning toward me, 'he's quite knowledgeable.'
Thanks Darren! I recounted that a portion of fish off the bone will be around 175-200g so on the bone would be about 250g. As the fish weighed 1.5kg I reckoned about six max. The man turned back to Darren: 'Well, I'm feeding eight – I'm hosting a very special Sunday barbecue party – have you got a bigger salmon?' Darren sped away to his store and brought out an identically-sized salmon. (Unable to find a larger salmon, Darren had bought two smaller fish assuming if one was not big enough, the customer might buy the other one.) In the confusion that followed, including further discussions about portion control, the man bought only one of the salmons – still none the wiser as to how many it would feed.
Meanwhile, my attention was drawn to the other salmon, now looking rather lonely on the counter display – the fish and I started to gaze into each other's eyes… 'Sir!' exclaimed Darren with a cheeky smile, 'Can I interest you in a salmon?' Oh gosh, I only came for a couple steaks of hake, but having taken part in this drama I somehow felt obliged. Still, the price was manageable and good value for six people. Darren continued his spiel: '…It's from my favourite supplier – Wester Ross Salmon – hand-reared in the Scottish Highlands by…', 'Yes, yes', I said, 'it's a fine looking fish – I'll have it.'
I decided to barbecue the fish whole and eat some of it hot, saving the rest to have cold another day. I cooked the fish wrapped tightly in foil with aromatics and wine. It worked a treat. But to my surprise, I managed to feed twelve people (and a cat) with the fish. Four were fed when it was hot, four when it was cold and the remainder went into a frittata and fed another four (the cat had the scraps).
With my new experience of feeding people (and animals) with a salmon, I now know how to respond to the question: How many people a salmon will feed? The answer is: it depends…
Wester Ross Salmon – check the gallery – why is there a polar bear in the highlands?
A Wagashi Birthday Treat
A dear friend made a trip to the Minamoto Kitchoan in Piccadilly London and bought a bag-full of wygashi delights for my birthday.
Sweet Corn Memories
Growing up in Southern California in the 60s, our family was fussy about its corn…