Garsons Farm, Esher's Best Kept Secret
Posted by

Mr WDC
Oct 10, 2016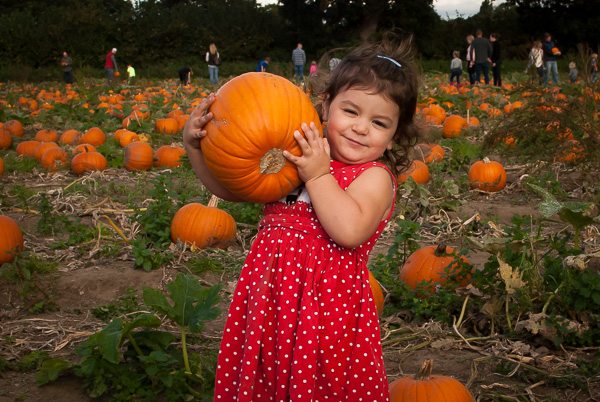 Granddaughter Tate enjoying the pumpkin harvest
Esher town is full of things to do. It's got three public golf courses, a high street with over 15 restaurants, two National Trust properties, a cinema and a famous race course. But for those in the know, Esher's best attractions are hidden away off the beaten track. Here you will find walks through common land with views over the River Mole, picturesque churches and historic pubs, village greens and duck ponds… and Esher's best kept secret: Garsons' Farm – a pick-your-own farm, garden centre and farm shop all rolled into one.
Pick-your-own
Garsons Pick-Your-Own farm is the largest in the UK and comprises 150 acres of land yielding over 30 crops of fruit, vegetables and flowers throughout the year. Children love scrambling about the fields, especially to pick soft fruit, where the temptation to 'eat-your-pickings' is as much fun as 'picking-your-own'. It's fascinating and educational to see how the food we take for granted is actually grown. Asparagus spears emerge from their mounded entombments looking frail and ghostly, strawberries are grown in raised troughs in long poly tunnels and hundreds of pumpkins create surreal landscapes of bright orange balls. Sweetcorn is planted so close together the only way to pick an ear of corn is to venture into dark trampled passages twisting through the fields.
The Garden Centre
The Garden Centre is a day out for all the family. Garsons' vast glass buildings have been adapted to display gifts, crafts, kitchenware and other household goods to attract the crowds. The modern architectural restaurant is hugely popular and pivotal to the success of the centre. There are seasonal displays, antiquated farm equipment and protected adventure playgrounds for children. Whilst economic pressure has encouraged the transformation of all garden centres into visitor attractions, it's reassuring to see that Garsons still carries a full range of plants, shrubs, trees, seeds and garden care supplies.
The Farm Shop
The Farm Shop stocks a full selection of groceries, but goes out of its way to stock artisan and local produce as well as fruit and vegetables from its own fields. There's an excellent selection of cheese and charcuterie, English wine, cakes and bakes, frozen fruit and high quality meat from Bevans the butcher and fish from Poulters on a Friday. They even have a special section dedicated to American food to cater to the local American community.
Many products offer very good value. Garsons' herbs are sold in large reasonably priced bundles. The butchers' cold cabinet sells versatile and well-priced cooked ham hocks in sealed bags. Huge heads of lettuce, oaken-leaved and burgundy or round and soft green keep very well in the fridge. Chillies, peppers and tomatoes are all good quality and worth the price. The frozen blueberries may cost the same as the fresh type, but their colour and taste is intense and provide a perfect cooling accent to homemade smoothies.
You can find more unusual product lines like dried Mexican chillies, mooli and globe artichokes or the small violetta artichokes (when they're in season). Varieties of lesser known potatoes are on sale, including Cyprus potatoes, still clinging onto the red clay in which they were grown. In late summer it's possible to buy the hand-braided strand of Roscoff Garlic – well balanced in taste with plump and easy to peel cloves.
Farm shops – and farmers' – markets offer alternative choices and ways to think about how we buy our food. For instance, you can buy Dairy Shorthorn organic milk at Garsons; the cows graze happily in Hampshire fields and their milk is creamy and delicious – worth every extra penny.
Like Esher town, Garsons has something for everybody. It's a place to stretch legs, enjoy the open air and have coffee with friends and family, you can browse and buy almost anything for the home and garden and with a pick-your-own farm and farm shop – it's a great place to shop for food.
A Wagashi Birthday Treat
A dear friend made a trip to the Minamoto Kitchoan in Piccadilly London and bought a bag-full of wygashi delights for my birthday.
Sweet Corn Memories
Growing up in Southern California in the 60s, our family was fussy about its corn…