British Pie Banquet at The Thomas Cubitt
Posted by

Mr WDC
Mar 10, 2017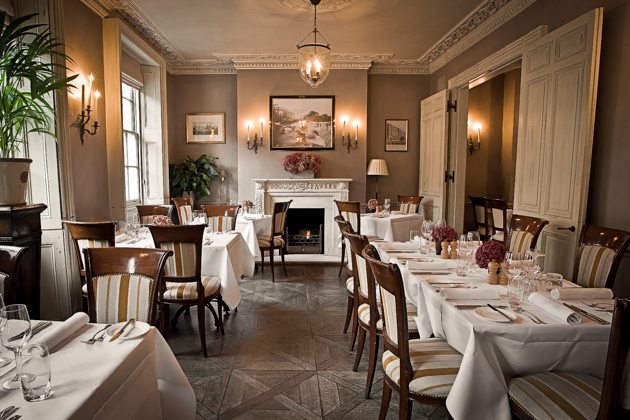 In case you didn't know, this week is 'British Pie Week' – a fact that might have inspired The Tomas Cubitt gastro-pub to celebrate by hosting a British 'Pie Banquet' earlier in the week. The Banquet was held in the top floor Drawing Room of this elegant property in Belgravia and WDC were privileged to attend. The room was set in a true 'banqueting' style such that we might imagine we were sitting at the long table of a grand residence fulfilling our duties as keen courtiers.
Indeed, revelling in the heritage of British pies, we wondered if the evening would be embellished by medieval processions of pie-bearers carrying platters of elaborate pastry sculptures full of live songbirds. Sadly, pies of 'four and twenty blackbirds' were not on the menu, but just about every other type of pie was.
The chefs did their homework, which showed not only in their creative interpretations of the brief, but also their personal introductions to each pie. The evening started with a quick history of pie making, when we were told that the Italians produced the first edible pie. This naturally led to the notion of inedible pies and the first pie of the evening: the 'Coffyn Pie'. Based on a flour and water container for preserving food, our delicate pie case was used to present four amuse-bouches: smoked eel, cheese and onion tartlet, a beef and oyster pie deconstruction and an immaculate miniature Cornish pasty.
Next was a 'Gala Pie' and fond memories of picnics – the egg was served separately as a confit and the piccalilli scattered in a cheffy manner with onion ash. Whilst I pondered the tiny pickled carrot balls the dinner conversations turned to the vital differences between a 'gala' pie and a 'pork' pie (apparently it's all about eggs and rectangles!). An accompanying IPA was so fruity it might have been mistaken for freshly squeezed grapefruit juice.
I suspect, none of the guests were familiar with pies in cans. At some time in Britain's post food-rationed past, a Fray Bentos pie in a can would have been a luxury. The 'Pie in a Can' here, was re-presented as a minimalist, but exclusive, sardine can – a clever play on the concept. The simple act of opening your own can certainly adds to fun of the occasion. The 'tinned' trout, monkfish and lobster with smoky cream sauce was an opulent treat for the senses.
The 'Inside Out Pie' was a perfect example of slow braised oxtail, but surprisingly presented as a formidable ball suspended on a plate. The suet interior and bright purple chrain were nice touches. After a much needed sorbet the pièce de résistance was announced: 'The Lonely Shepherd'. These sharing pies were presented in cast iron pans with lamb shanks breaking through thick pastry crusts. This was Sunday Dinner heaven, all of it delicious. While an experienced banqueteer might still be sating an appetite at this stage of the proceedings, this rookie gourmand was beginning to struggle. Just as well then – but with regrets – this amazing banquet was drawing to a close. Throughout the meal, the wine was perfectly chosen and matched to each course, including some memorable reds. The evening finished on an elegant 'raisin-light' dessert wine to accompany a 'Lemon Meringue Pie' a neat dome of meringue hiding a lemon cream on shortbread.
The Thomas Cubitt did their guests proud with the quality and inventiveness of the event. We might not give food awareness days or weeks too much credence – but if it's an excuse to celebrate pie in this manner, then let's hear it for British Pie Week!
A Wagashi Birthday Treat
A dear friend made a trip to the Minamoto Kitchoan in Piccadilly London and bought a bag-full of wygashi delights for my birthday.
Sweet Corn Memories
Growing up in Southern California in the 60s, our family was fussy about its corn…