3 Ways to Cook Octopus
Posted by

Mr WDC
Apr 9, 2016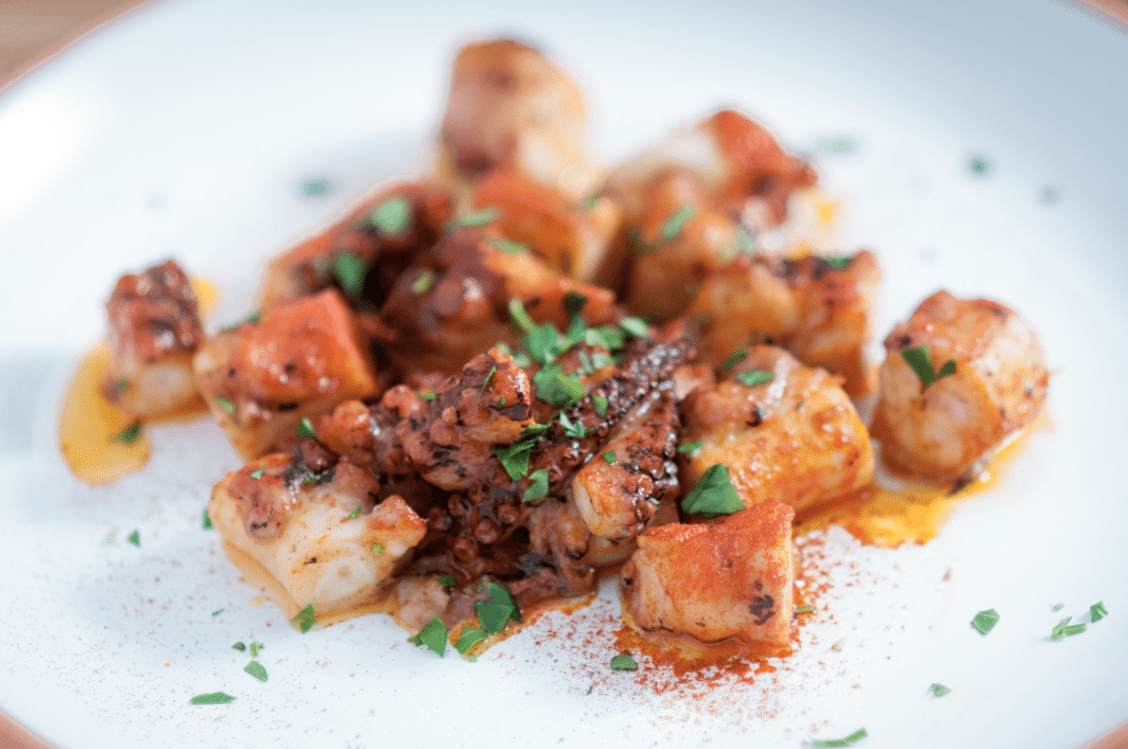 Octopus three ways.
I recently ordered an octopus from my fishmongers. A week later it arrived in a solid frozen block. I went off with the octopus imagining how I might cook it. I settled on three ways. On my return to the fishmongers I mentioned that I cooked his octopus three ways, but because it had eight legs, it was a bit tricky dividing into three! We both laughed. I showed him photographs on my phone; octopus the first way then the second – and then put my phone away. Where's the 'third way' he asked. I said it was in the freezer, as I couldn't get my wife to eat octopus three nights in a row! We both laughed again. You see? Octopus not only tastes good, it's also good for a laugh!
1. Spanish style (Galician)
This method first boils the octopus and then cooks it in a quick confit. Tradition has it that putting a wine bottle cork in the water will help to tenderise the octopus. I suspect the freezer will have had more to do with this claim than the cork. My 1080 Recipes, the classic Spanish cookbook also describes a way of plunging the octopus repeatedly into boiling water. We are also told that octopus should be bought with double suckers on the legs (a double-suckered octopus is reputed to have better flavour than the single-suckered type). Whether this kitchen myth or fact is difficult to prove.
Ingredients for 4
1 large frozen octopus – roughly 1.5kg.
2 cloves of garlic crushed
2 large onions, cut through the root into 4 segments each
Bunch of parsley
4 bay leaves
350ml olive oil
Sweet smoke paprika
Method
First prepare the octopus. It should have been cleaned, but it may be necessary to remove the beak and the remainder of the eyes.
Fill a large pan with water and bring to the boil. Add plenty of salt – some say as salty as the sea… but good large pinch should be fine. Add 6 onion segments and the bay leaves. Cook the octopus for an hour but check after 45 minutes to see if it is tender. It may take as long as 1 1/2 hours. The octopus should not be overcooked as it will lose its fresh taste and the suckers will fall away from the legs.
Drain and dry the octopus. Chop the octopus into pieces. Discard the head – though it is still good to eat.
In a small heat the olive oil with the garlic and onion on a low heat for 10 minutes. Strain and discard the garlic and onion. Pour the oil into a large frying pan and add the octopus. Warm on a low heat for 5 minutes.
Drain the octopus and arrange on a platter or plates. Sprinkle over the paprika and garnish with chopped parsley.
2. Italian style
Italian octopus salad
This time the octopus is braised in it own juices i.e. without any additional liquid in the braising pot. Many chefs eulogise about how cooking without water is such a revelation.
Ingredients for 4
1 large frozen octopus – roughly 1.5kg.
1 chilli – de-seeded
3 cloves of garlic
One stick of celery roughly chopped
2 small onions
250g new potatoes
Bunch of parsley
2 bay leaves
2 tablespoons white wine vinegar
1 lemon
Olive oil
Salad leaves
Chives
Method
First prepare the octopus. It should have been cleaned, but it may be necessary to remove the beak and the remainder of the eyes. Freezing tenderizes the meat so there is no need to bat the octopus.
Put the octopus in a large heavy cast iron pan along with the following: a good glug of olive oil, the sliced chilli, 3 cloves of garlic, one onion cut in quarters through the root (so they stay intact), the celery, the stalks from the parsley and the bay leaf. Put the lid on the pan and put on a low heat. The octopus cooks in its own juices, which will be considerable. Cook for up to 1 ½ hours. Check after a 45 minutes to see how it is doing. The octopus should not be overcooked as the suckers will fall away from the legs. Take off the heat when it is tender and leave to cool.
Boil the potatoes until cooked. Peel the skins when the potatoes have cooled enough to handle. Cut the potatoes into smallish pieces – about the same size as the octopus will be when the legs are cut into sections.
Whilst the potatoes are boiling, chop the onion finely and cook with a couple of tablespoons of olive oil until soft and transparent but not coloured. Add the vinegar and reduce until evaporated.
Add the potatoes to a bowl – spoon over the onions and mix. Cut the octopus into sections and add to the bowl. Add a good squeeze of lemon – to taste and check the seasoning.
Squash ½ a garlic clove on a chopping board and add put a small handful of the parsley on top and chop to mix the parsley and the garlic. Put a couple of teaspoons of this onto the octopus and potatoes. Don't swamp the mixture with parsley.
Place a few salad leaves on each plate and spoon the octopus on top. Garnish with a sprinkle of chopped chives, and a wedge of lemon.
3. Daube
Richard Olney in his book, Simple French food  suggests that an octopus would be very good cooked as a daube, i.e. as a French Provencal stew. I had some trepidation with the idea of octopus braised with aromatic vegetables, (as if it were neck of lamb or shin of beef), but in fact it is not that far removed from a zarzuela – or as Mr. Olney mentions, the rich tomato and garlic based sauces associated with seafood, such as a la Setoise, Nicoise or Provencal.
For the daube
1 large frozen octopus – roughly 1.5kg
3 cloves of garlic
2 sticks of celery
2 medium onions
2 carrots
1 red pepper
2 bay leaves
3 sprigs of fresh thyme
1 large sprig parsley
300 ml red wine
500g tomatoes
1 tbs tomato paste
To finish
500g potatoes
300g green beans
300g peas
1 tsp fresh thyme leaves
1 sprig of rosemary
1 bay leaf
1 small hand-full chopped fresh parsley
Salt and pepper
This is best cooked to eat the following day.
Defrost the octopus and wash. Remove the beak and clean inside the head. Cut-up the octopus. The head can be cut into 4 and the body into sections of two legs each.
Use a large earthenware casserole with a tight-fitting lid or similar enamel cast iron pot.
Chop the celery, carrot and onions into small pieces, (they will be served with the stew). Slice the pepper into pieces. Crush the garlic cloves. Peel and de-seed the tomatoes.
Place all the ingredients into the pot – add water to cover half way. Place in the oven at low heat – 150C gas 2. Cook for 2 hours. Check the octopus, if it is tender remove from the oven. If not continue to cook until it is tender then remove from the oven.
Leave to cool and refrigerate overnight.
Do not handle or stir the octopus roughly as the attractive purple coating will come off. Carefully remove the octopus pieces and discard the herbs and bay leaves. Heat the cooking sauce in a large pan, add additional fresh thyme leaves, and fresh bay leaf. Reduce the liquid if necessary to make a rich but generous sauce.
Peel and cut the potatoes into serving-sized chunks. Chop the beans into 2cm lengths. Cook the potatoes peas and beans separately in boiling water until just tender. Drain and add to the stew.
Carefully add the octopus to the stew and reheat gently.
Season and serve in large pasta plates with plenty of crusty bread.
Salt + Sweet + Sour + Hot
Thinking about food through these four prisms of taste can open up new possibilities for seasoning and adding flavour to our food.
Do Chefs Eat Greens?
At home, I try to provide a balanced diet. That means two or three vegetables with each meal. In fact for a Sunday roast, the number of vegetables can rise exponentially…
Onigiri 3 Ways
Dad trials out three ways to prepare and eat Onigiri with shitaki mushrooms.
3 Ways to Cook Octopus
Octopus may not be everybody's cup of tea. But do try it. Here are three way to cook it – hopefully one of these will inspire you to have a go!
3 Ways to Eat Raw Salmon
Dad's three ways to prepare raw salmon. Follow the step by step guide to making salmon carpaccio, salmon tartare and even nigiri style sushi.
3 Ways to Cure Salmon
Here are 3 great ways to cure a fillet of salmon – ceviche, gravadlax and escabeche. Only the escabeche requires any cooking. They are all good techniques to have up your sleeve and each would make a great starter for a dinner party.
3 Ways To Marinate and Grill Salmon
Salmon home cooking tip time from Dad. We've got "3 Ways To Fry Marinate & Grill Salmon" – garlic and herb, salmon teriyaki and a Miso Marinade.
3 Ways To Fry Salmon
Another genius cooking tip from WDC. Here, dad describes 3 Ways To Fry Salmon using 3 different techniques; stir-fry, shallow-fry and deep-fry.