Eggnog – the Elixir of Life
Posted by

Mr WDC
Dec 20, 2016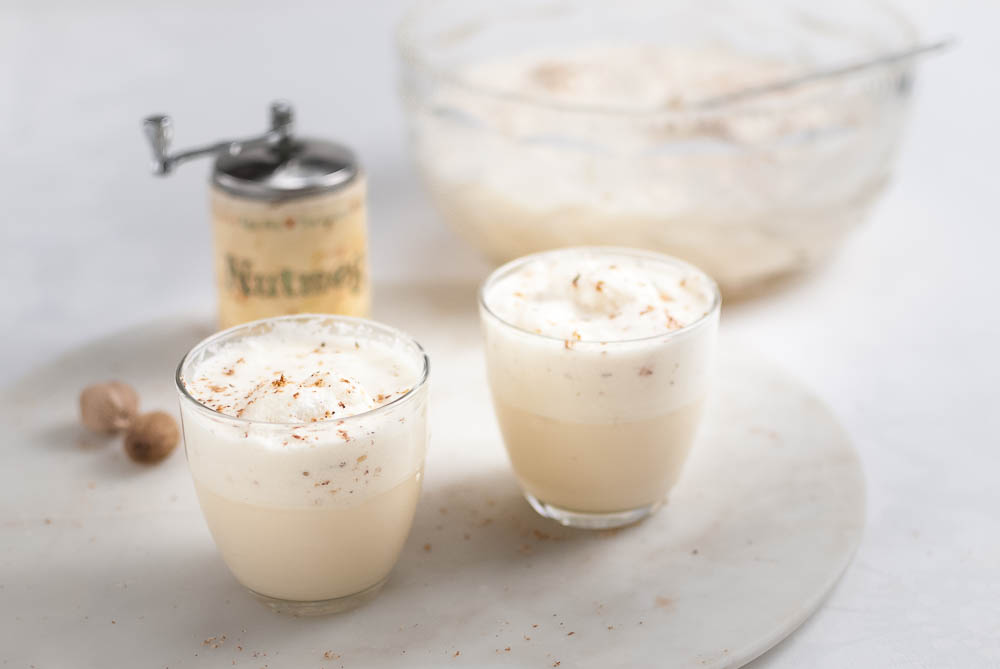 Drinking eggnog at Christmastime is a long-established American tradition. Eggnog is a milky punch, laced with whisky, bourbon, brandy or rum. A key ingredient is eggs – hence its name. Eggnog is usually drunk in a wassailing-type manner among gathered crowds, so it's more likely to feature at a local community event or a house party than a cocktail bar (though many similar cocktails and liqueurs will be found on bar menus).
Making eggnog is an important family ritual; each household has their own secret recipe. The constituent parts vary according to each handed-down method, but most will agree on serving with great white clouds of floating egg whites dusted with nutmeg. Being ceremonious, eggnog has its own paraphernalia and is usually served in an enormous and often elaborate punchbowl with matching ladle and noggin-like cups. Our family owned a silver-plated set which was brought out from storage each year and polished by hand in readiness for the seasonal soirées of invited guests and neighbours.
Everybody loves eggnog, even as children we were allowed to attend the peripheries of our parent's eggnog parties by sharing a non-alcoholic 'family' version of eggnog. Indeed, eggnog as flavour is so popular it finds itself many favourite American foods, such as hot beverages, custard puddings and ice cream.
Real eggnog, however, should always be treated with respect. It's a powerful and dangerously addictive drink. Imbued with cream, milk, sugar, eggs and strong intoxicants, it contains the elixirs of infancy, adolescence and age in a single dose. If this is not enough to over-arouse the senses, eggnog also poses the potential risks of drinking pathogen-spiked uncooked eggs. This gives the drink all the controversial allure, excitement and health hazards of eating raw puffer fish…
Happily our family never came a cropper from drinking eggnog. Cheers.
Sweet Corn Memories
Growing up in Southern California in the 60s, our family was fussy about its corn…
25 Go Mad in Franco Manca
A new Franco Manca restaurant has just opened in Richmond. WDC was invited, with around 20 other influencers, to the soft launch.
To Confit or Not to Confit
How can we say we're 'worth our salt' unless we've submitted to the mysteries and heartaches of the confit and lived to tell the tale?
Notes on Quick and Easy Cooking
I've recently posted a series of 'quick and easy' 30 minute recipes which have unexpectedly made me think again about the hyped-up online food industry – and my own cooking.
British Pie Banquet at The Thomas Cubitt
In case you didn't know, this week is 'British Pie Week' – a fact that might have inspired The Tomas Cubitt gastro-pub to celebrate by hosting a British 'Pie Banquet' earlier in the week.